What is a Three Sisters Garden?
It is an ancient method of gardening using an intercropping system which grows corn, beans, and squash crops simultaneously in the same growing area that is typically a rounded mound of soil, often called a hill.
Corn is the oldest sister. She stands tall in the center.
Squash is the next sister. She grows over the mound, protecting her sisters from weeds and shades the soil from the sun with her leaves, keeping it cool and moist.
Beans are the third sister. She climbs through squash and then up corn to bind all together as she reaches for the sun. Beans help keep the soil fertile by coverting the sun's energy into nitrogen filled nodules that grow on its roots. As beans grow they use the stored nitrogen as food
.
How do I grow a Three Sisters Garden?
In mid-Spring clear a sunny garden area of grasses, weeds, and large stones. The area should be roundish in shape and at least eight feet across. Cover the area with a few inches of compost or well rotted manure. Turn the compost in to loosen the ground and create a moisture retaining growing medium with increased fertility. Water it well. Check the growing area frequently over the next few weeks to remove any sprouted weeds.
In late-Spring sow about seven or eight corn seeds in the center of the growing circle, in a ring pattern, spaced out about six inches from each other. Plant the corn seeds an inch under the soil, firm the soil above by patting it down with the palm of your hand. Water the growing mound well. The corn will sprout and begin to grow in about two weeks.
After the corn has grown to about ten inches high, using a hoe or hand trowel, pull up some soil from the growing mound around the base of the corn stalks. The corn should not be buried entirely, it's upper half should be above the soil that has been mounded around it's stems. The corn will send roots into the mounded soil to hold it steady and upright in the wind.
After mounding soil around the base of the corn stalks sow about a dozen pole bean seeds in a ring pattern six inches outside the corn stalks. Push the bean seeds about an inch under the soil and firm the ground above them by patting it down with your hand. Water the growing mound well. The beans will usually begin to sprout in about 7-14 days.
About a week after the beans sprout, sow six or seven squash seeds in a ring about 12-15″ outside the beans. Push the squash seeds about an inch under the soil and firm the ground above them by patting it down with your hand. The squash seeds will sprout in about a week.
As the corn grows the beans will begin to climb, you can help them early on by wrapping the bean vines around the corn stalks. The squash will begin to grow it's vines and the large squash leaves will soon cover the growing mound and shade its soil. On occasion help the squash continue to cover the mound by turning the ends of it's vines towards the center of the mound. Water the mound well during weeks where there has been little or no rain.
When can we harvest our Three Sister's Garden?
Corn may be harvested while in it's green corn stage, but tradtionally it is left to ripen and is harvested in Autumn. The cob is sun dried and stored for winter use. To harvest green corn observe the silky threads coming from the tops of the ears, when the silk is dry and a dark brown color the corn may be harvested. To remove an ear of corn, hold the stalk a few inches below the ear. Pull the tip of the ear toward the ground until it snaps off.
Beans may be eaten fresh or allowed to mature and dry on the vine. Fresh beans can be harvested when the pods are firm and crisp, but before the seeds within the pods have begun to swell. Pick beans in late morning after the night-dew has dried from the plants. This helps to prevent the spread of bacterias which can harm the plants. Pick the beans carefully to avoid bruising or snapping the growing vines. Bean plants will continue to flower and more bean pods will develop if they are harvested before bean seeds can mature.
Squash should be picked only after its skin has hardened thoroughly. Be careful to not damage or break off the stem of the squash…this can wound the squash and it will begin to rot. Cut the stem 3-4″ from the fruit with a sharp knife. Allow the squash to sit in the sun for a few days to cure and the stem to dry. Store squash in a single layer and not touching each other, which can foster rot. Squash can last at least two months, depending on the variety.
Enjoy growing your Three Sisters Garden!
First the bad news: if you neglect spring lawn care (and related concerns pertaining to your mower), you could end up paying for it the rest of the year. Now the good news: spring lawn care doesn't entail nearly the amount of work that you'll have to invest in mowing alone throughout the summer months.
In fact, most of you will need to implement only about half of the following ten tips for spring lawn care, depending upon your own unique circumstances. Furthermore, I point out in a few instances below that the task in question is better performed as part of your fall lawn care, if you can wait that long.
Spring Lawn Care Tip #1: Raking
Raking will be your first task of spring lawn care. Okay, I can hear the groans coming from all lands near and far, wherever grassy carpets are cultivated: "But we already raked leaves in the fall!" Sorry, but raking is for more than just removing leaves: it's for controlling thatch, too. A thatch build-up of more than 1/2 inch is considered excessive.
Thatch is the reason why I recommend that, when you rake leaves in the fall, you make the effort to rake deeply. Don't just skim the surface, so as to remove the leaves. A deep raking will remove thatch, too, allowing you to kill two birds with one stone. Even if you followed this advice in fall, I still recommend a spring raking: it will remove grass blades that died over the winter — dead blades that are just waiting to become thatch!
But there's often another good reason for a spring raking. As you survey your lawn in spring, see if there are any matted patches, in which the grass blades are all stuck together. This can be caused by a disease known as "snow mold." New grass may have difficulty penetrating these matted patches. But a light raking will be sufficient to solve this problem.
Just when you should perform any of these spring lawn care tasks will depend upon the climate of your own region. But Mother Nature provides palpable cues in some cases. For instance, when you're pretty sure the snow season (if you have one) is over in your region, begin raking. Applying preemergent herbicides (see Tip #6) should be done sometime between the time the local forsythia bushes stop blooming and the time the local lilac bushes begin blooming.
Spring Lawn Care Tip #2: Check for Compaction
If your lawn is subjected to high levels of traffic year after year, it may eventually start to show signs of decline. In such cases, your lawn is probably suffering from compaction. For instance, the presence of moss plants signals compaction (among other things).
Lawn aeration is the remedy for compaction. The good news is that lawn aerators can be rented at your local rental center. The bad news is that the experts recommend postponing lawn aeration until fall. But if, during your "spring lawn checkup," you become aware of compaction, at least you can plan on setting aside some time in the fall to take care of it.
Spring Lawn Care Tip #3: Liming
Besides compaction, the presence of moss plants also signals acidity. But grass likes a neutral soil pH. You can solve this problem by liming your soil. But don't expect a quick fix: the effects of liming are slow to take place.
But first send a soil sample to your local county extension to determine the extent of your soil's acidity. The county extension will also be able to advise you on how much lime per square foot you'll need. Apply the lime using a lawn spreader.
But if your lawn has been doing fine and shows no signs of suffering from acidity, don't apply lime. Liming is only a corrective measure, not a preventive measure. A soil that is too alkaline will also cause your lawn problems, so too much lime is as bad as not enough.
Spring Lawn Care Tip #4: Overseeding
Is your lawn riddled with bare patches due to dog spots, heavy traffic or neglect? If so, you may need to apply grass seed to fill in those bare patches. This solution is known as "overseeding lawns." Apply a slow-release nitrogen fertilizer when you overseed. Five weeks after the grass germinates, apply a quick-release nitrogen fertilizer.
However, spring isn't the very best time for overseeding lawns. Fall is the preferred time, when the new grass won't have to compete with crabgrass (see Page 2), which is killed off by autumn frosts. So postpone overseeding until fall, unless your situation is dire.
Spring Lawn Care Tip #5: Fertilizing
Lawns can be fertilized organically by using compost and mulching mowers. But for those who prefer chemical fertilizers, Scotts provides a lawn fertilizing schedule. Many experts, however, recommend a lighter feeding in spring and a heavier one in late fall for cool-season grasses. Too much fertilizer in spring can lead to disease and weed problems. And if you have, indeed, already fertilized in late fall, your lawn is still "digesting" that fertilizer in spring.
In addition to the above tasks of spring lawn care, don't forget weed control and making sure your mower is ready for the mowing season.
For those who prefer weed-free lawns, spring grass care is as much about weed prevention as it is about fostering healthy lawn growth. Novices to spring grass care are often surprised to learn that not all lawn weeds are battled in the same manner. Depending upon whether a weed is an annual or a perennial, you will use a preemergent herbicide or a postemergent herbicide against it.
Spring Grass Care Tip #6: Applying Preemergent Herbicides
If you know that you have a problem with the annual weed, crabgrass, then fertilization in spring should go hand in hand with the application of preemergent herbicides. As their name suggests, preemergent herbicides address weed control not "after the fact," but before their seedlings can even emerge. Preemergent herbicides accomplish this by forming something of a "shield" that inhibits seed germination. Don't undertake the core aeration task discussed on Page 1 after applying preemergent herbicides: to do so would be to "puncture" this shield, thereby decreasing its effectiveness.
Crabgrass begins its assault on lawns in spring, when its seeds germinate. In fact, my suggestion on Page 1 that overseeding be carried out in autumn, rather than spring, is based in part on the threat posed by a spring crabgrass invasion. "So why not just begin by killing the crabgrass first with a preemergent herbicide?" perhaps you ask. Well, the trouble is that most preemergent herbicides work against not only weed seeds, but grass seeds, as well!
You can appreciate the dilemma here. Overseeding is incompatible with the application of most preemergent herbicides. Yet, faced with competition from crabgrass in spring, you may find it difficult to establish your new grass. So while it's still possible to overseed in spring, it's simply easier to do so in fall. There will be no competition from crabgrass then, because the fall frosts kill off crabgrass.
If you must overseed in the spring, look for a product called, "Tupersan." Unlike other preemergent herbicides, Tupersan will not damage germinating lawn grass seed. But if you're committed to staying away from chemicals altogether in your spring grass care, postpone overseeding till fall.
Spring Grass Care Tip #7: Applying Postemergent Herbicides — Or Pulling Weeds
Keep an eye out for the emergence of the perennial weed, dandelion during the spring season, unless you find the presence of their cheerful yellow flowers in your lawn desirable. At the very least, you'll want to snap off their flower stems before they produce seed. If you're more ambitious, you can dig them out by the roots. Spraying dandelion weeds with postemergent herbicides is more effective in fall than in spring. If you do choose to spray, select an herbicide for broadleaf weeds.
If you prefer weed control without chemicals and have consistently practiced organic landscaping, you can harvest these "weeds" as dandelion greens and eat them!
No other power equipment is as intimately associated with and essential to landscaping as is the lawn mower. You need to have a lawn mower that will consistently get the job done without any hassles throughout the lawn mowing season. And you should also know how to use the lawn mower to your best advantage. Consequently, the final three of my ten tips focus on caring for, selecting and using lawn mowers.
Tip #8: Tuning Up Existing Lawn Mowers
Mowing the lawn all summer can be tiring enough, right? Why make it more difficult on yourself by putting up with a lawn mower that doesn't start up immediately? When a lawn mower is stubborn about starting up, that can be a sign that it needs a tuneup. Although it's often possible to get by without one, it is recommended that you have a lawn mower tuneup each year. Don't put it off till summer or pay someone else to do it. Learn how to tune up a lawn mower yourself using the following resource and have your machine ready to go for summer:
Tip #9: Buying a New Lawn Mower
Or perhaps you're fed up with your old lawn mower? Time for a change? This Q&A resource for consumers will help you decide on which type of lawn mower is best for you:
Tip #10: Reviewing Lawn Mowing Strategies
"What's there to know about lawn mowing?" perhaps you ask. "You just push the lawn mower and it cuts the grass, right?" At the most basic level, Yes. And if lawn mowing is merely a mindless chore that you perform to satisfy other people (and you really don't care much about the health of your lawn), then you needn't know any more about it.
However, if you do care about the health of your lawn, there's a bit more to lawn mowing than just keeping your grass short enough to prevent the neighborhood from thinking your house has been abandonned! Spring is a good time to learn (or review) lawn mowing strategies — before it becomes so hot outside that it's hard to think!
Question: Is there a right and a wrong method of lawn mowing?
Answer: Yes. Alternate the direction in which you mow each lawn mowing session. You will thereby prevent your grass from "getting into a rut" (literally). If your lawn mower wheels pass over the same area in the same direction each time you mow, they'll form ruts over time. Switching lawn mowing patterns also wisely avoids having the lawn mower blade beating at the grass in the same direction at every mowing.
A bean teepee creates a wonderful hiding hole for young kids during the summer months at the same time as providing a perfect support for growing pole beans!
You can locate your bean teepee either in the vegetable patch or in a spare corner of the garden – it adds the dimension of height and is not only useful and fun, but quite ornamental too. Just bear in mind that the teepee will cast a fair bit of shade once the beans have grown.
How to Make a Bean Teepee
You will need: 7 – 9 long bamboo poles, some twine, string or even masking tape, and runner or pole beans.
Start off by finding a suitable spot in your garden and dig the earth over in a circular shape. A circle with a diameter of 3-4 foot is usually perfectly adequate.Beans like well-drained soil, so add some compost and fertiliser if needed – like in this example!
Firmly push the ends of the bamboo poles into the ground by about 3 inches on the outside of the circle.Leave a gap between two of the poles to act as the entrance to the bean teepee.
Tie the bamboo poles together firmly near the top using twine, string, a bit of old rope or even masking tape.There is absolutely no fine art in tieing the poles together – the main and only aim is to ensure they are all VERY firmly held in place, as no matter how careful kids are, they are likely to knock the poles when going in and out of the teepee!
Plant the runner or pole beans about 2 inches deep. Plant them on the inside of the teepee rather than the outside, as this makes it easier to hoe and keep weeds down – anything growing on the outside of the bamboo poles are weeds!It is usual to plant two beans per pole. That should ensure at least one healthy plant per pole.
Water generously.Beans usually take between 7 to 14 days to germinate. Once the seedlings appear, protect them from slug attacks.

When the beans are a few inches high, loosely tie them to the poles. From then on, they should find their own way up.

When the plants reach the top of the teepee after about 7-8 weeks, nip the growing ends off. Keep them well watered during a dry patch, especially once the pods have started forming.
Once the dense foliage of the runner or pole beans has climbed up the bamboo poles and provides a cover, your bean teepee is ready for it's inhabitants. Pop a blanket inside for the perfect private hide-away!
Tips
Once the first bean pods are ready to be harvested, keep picking them every few days to ensure the plants keep flowering and producing more pods. Once a pod reaches full maturity, the flowering process is shut down.
Beans can be planted outside once the risk of frost is over, usually late May or the beginning of June in the more northern areas.
For an even more colourful display, interplant climbing flowering plants too, such as climbing nasturtiums or black-eyed Susan.
Cats love these shady hide-aways too!
By pruning your fruit trees, you stimulate shoot growth, control the size and shape of the tree, and improve the quality of the fruit.
If you have not pruned before, don't worry! It is not difficult, and you'll get a real feel for how to prune fruit trees the more you work at it. And it's worth every minute!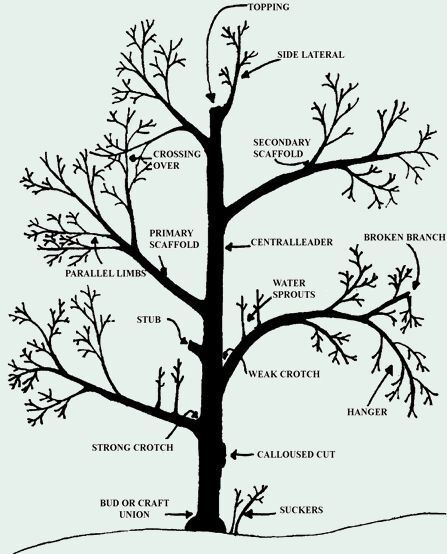 You'll want to follow a few specific fruit tree pruning instructions for different types of fruit trees. For instance, apple trees need a different pruning system than peach trees. Here are the basics:
The Central-Leader System:

This is used for pruning apple trees, pear trees, and sweet cherry trees. A "central leader" is the main stem or trunk of the tree from which other lateral branches develop.

Fruit tree pruning instructions for this method are based around thinning the lateral branches.

The Open-Center System:

Used for peach tree pruning, as well as pruning plum trees, nectarine trees, apricot trees and sour cherry trees where there is no dominant, vertical trunk (central leader).

Open center fruit tree pruning instructions are based around three or four main limbs set at wide angles with about five lesser branches on each.

The Modified-Leader System:

Mostly used for nut bearing trees, this can also be applied when pruning apple trees and pear trees. Modified-leader fruit tree pruning instructions are based upon giving the central leader and three or four lateral branches equal importance.
With this in mind, here are basic fruit tree pruning instructions that will get you off to a good start to getting the balance you want of shoot growth and fruit production:
General Fruit Tree Pruning Instructions
Always use sharp shears or saws so your cuts are clean. Use pruning shears on young trees and limbs less than 1/2 inch diameter, and lopping shears for your bigger cuts. For mature fruit trees, use a pruning saw.

Begin by removing dead wood and broken branches. Then cut out any wood that crosses or rubs against any other branches. This opens up the middle so the sun can get to all the fruit.

Make your cut close to a bud, to a joint in the branch, or to the trunk; never leave a stub. The pruning cut should be just above a bud. Make the cut at a backwards angle of about 30 degrees.

Prune stems just above a pair of opposing strong shoots or buds. If shoots or buds are staggered, choose a strong one and prune just above it.

Keep more horizontal branches, and prune more vertical branches.

Remove suckers (shoots) from around the base of the tree.

Get rid of all debris which can harbor pests and disease.
In the fall is when you want to get ready for the winter cold. The worst thing in the world is trying to put your storm windows in when its 20 degrees outside. Or worse, not having your sprinkler system purged before the freezing weather comes. I'm going to give you a fairly easy checklist of things to do for the various systems of your home. From plumbing to roof, we'll walk through each system and hit the major things to make sure you do before winter so you can enjoy the snow and not worry about your home.
OK, lets start with the basics of making sure you have heat when you need it. The time to check that is in the Fall, no later than the end of October. Give your system a test run through and make sure all systems are "GO".
Heating System Checklist
Test Run:
Turn the thermostat to heat mode and set it to 80 degrees just for testing. You should hear the furnace turn on and warm air should blow within a few minutes. If it's running OK, turn the thermostat back to its normal setting. If it's not running properly, you can try to diagnose it. Depending on what's wrong, you can fix it yourself or you may need a qualified service technician.
Seasonal Maintenance:
Either have the furnace checked by a service technician or do it yourself.
Replace the Air Filter:
Put in a new clean air filter.
Fuel:
If you have a propane or oil furnace, make sure to have your fuel storage tank topped off and ready to go.
Heating Vents:
Clear obstacles to heating vents so air can freely flow.
Check for Carbon Monoxide Leaks:
This silent killer can easily be detected with either an inexpensive test badge or battery operated alarm. Whichever way you decide, just please decide to protect your family with one of these units.
Although not thought about much in warm weather, the wood burning fireplace and chimney can be a major source of cold air leaks and other issues in winter. So the chimney and fireplace need a little going over before winter sets in.
Chimney and Fireplace

Check that the chimney is clear of any nests from birds, squirrels or other animals.
Check flue damper operation. Make sure it opens and closes fully, and that it is able to be locked in the open or closed position.
Check chimney draft. Make sure the chimney will draw up the fire and smoke properly. Test this by taking several sheets of newspaper and rolling them up. Then with the fireplace damper in the open position, light the newspaper in the fireplace. The smoke should rise up the chimney. If it doesn't, you have an obstruction and need to call a professional in to clean the chimney of creosote and ash and possible debris.
If it has been several years (or never!) since you had your fireplace chimney cleaned, you should have it done by a professional chimney sweep. Definitely not a fun DIY project.
Inspect the fire brick in the fireplace. If you see any open mortar joints have them repaired immediately! A fire can spread into the stud wall behind the masonry fire brick through open mortar joints.

Plumbing is especially susceptible to cold weather and freezing. Burst pipes from freezing can cause some of the most expensive repairs in the home. So let's go over some of the basics to make you have them covered.

Insulate Exposed Piping
If you have any exposed water or drain piping at all in uninsulated spaces such as in a crawlspace, attic, outside walls, etc., make sure to insulate them with foam insulation at a minimum. Ideally you should wrap them with electrical heating tape first, then insulate them.
Pipe Wrap and Insulating Tape 
Exterior Faucets
Known as hose bibbs or sill-cocks, the exterior faucet needs to have its water supply turned off inside the house, and you also need to drain water from it by opening up the exterior faucet. You may also want to consider an insulated cover for the hose bibb. And remember to disconnect your garden hoses from the sill cocks or outside faucets and drain them if you store them outside.

Seasonal Shut Down
If you are shutting down a property for several months you should always shut off the water supply and drain the plumbing system. If a leak were to occur without occupancy, the damage could be catastrophic.
Infiltration of cold air from air leaks around doors and windows is as significant a contributor to your heating bill as is poor insulation in the walls and ceiling. An easy way to reduce you heating bill is to reduce these drafts with simple weatherstripping.
Windows
On a day when it's windy outside, close your windows and feel for air leaks. You can use an incense stick for this too if you don't mind the smell. Watch the smoke trail and if it becomes anything other than vertical, you have an air leak. Typically air leaks will be at the edges where the window is hinged, slides or meets another unit, such as between the two panels of a double hung window.
Although you can tape plastic over the windows to seal them, this can be expensive and look bad. It can also reduce much needed light in the winter unless you use the shrink-wrap type of plastic seal. So a better and easier solution is to use inexpensive

rope caulk

.
Press the rope caulk into all the joints where air is leaking.
Doors
The easiest fix here is to check for weatherstripping on the side and bottoms of the doors. Install weatherstripping on any leaking doors.
Infiltration of cold air from air leaks around doors and windows is as significant a contributor to your heating bill as is poor insulation in the walls and ceiling. An easy way to reduce you heating bill is to reduce these drafts with simple weatherstripping.Windows

On a day when it's windy outside, close your windows and feel for air leaks. You can use an incense stick for this too if you don't mind the smell. Watch the smoke trail and if it becomes anything other than vertical, you have an air leak. Typically air leaks will be at the edges where the window is hinged, slides or meets another unit, such as between the two panels of a double hung window.
Although you can tape plastic over the windows to seal them, this can be expensive and look bad. It can also reduce much needed light in the winter unless you use the shrink-wrap type of plastic seal. So a better and easier solution is to use rope caulk.
Press the rope caulk into all the joints where air is leaking.

Doors

The easiest fix here is to check for weatherstripping on the side and bottoms of the doors. Install weatherstripping on any leaking doors.
Lastly, you'll want to prepare your yard for winter too. Let's take a look at what can be done for the grass, deck and outdoor amenities around the home.
Outdoor Landscape
Excellent information about getting your yard ready for winter can be found at your local Ace store.
Cover patio furniture.
If your deck needs it, consider giving it a fresh coat of sealer before winter.
Drain the gas from your lawn mower or just let the mower run until it is out of gas.
Drain any water fountains, unplug the pumps and prepare for winter.
Now if you use this handy checklist winter should not be a problem for you.
1
Start any gardening project in spring, when air temperatures rise to 60 degrees F. Vertical garden vegetables don't need warm soil, but do require frost-free nights.

2

Choose your wall for the garden. Put the vertical garden in a spot that gets full sunshine all day, with good air circulation and protection from any drying winds.

Use deep, sturdy rain gutters for the vertical garden, to give vegetables room for growth and support. Cut the rain gutters to fit on the wall you choose, and build at least three to four "stories" of gardening space. Drill holes every 10 inches in the bottom of the gutters, to ensure drainage.

4

Secure the gutters to the wall with eye hooks, screws or nails every 6 inches. Leave 2 to 3 feet of space between each layer of gutters to give the plants room to grow.

5

Mix organic compost, peat moss and potting soil in equal parts as your planting mix. This mix gives the vegetables plenty of nutrition and drainage. Fill the gutters full of your mixture, then turn starter fertilizer such as 6-24-24 or 8-32-16 into the top 4 inches of soil to provide more nutrition.

6

Plant small, compact vegetables in a vertical garden to minimize space usage and avoid stressing the structure. Plant lettuce, cabbage, spinach, broccoli, herbs, beets, peas, carrots, garlic, onions and radishes. Choose only small tomato, cucumber, bean and pepper cultivars. Also plant flowers in with vegetables to make the garden more attractive.
One of the toughest things about deck cleaning is figuring out which weekend to do it. You don't want it too hot or too cold, so you should have your supplies ready for when the weather cooperates. Spring is a perfect time to clean your deck and get your backyard ready for some outdoor entertaining.
Your supplies should include:
Exciting and inspirational music to keep you motivated
Easy-to-prepare meals for you and your helpers
Cold drinks and a shaded area with chairs for breaks
Old clothes you don't mind getting dirty
Plenty of trash bags to contain debris
Deck cleaning supplies
Preparing to Clean the Deck
Your first step to cleaning the deck is, of course, to remove all the big items that are on the deck. Remove patio furniture, the grill, flower pots, shoe trays and anything else that would prevent the deck surface from being completely clear.
Next, it's time to remove any debris that has collected on the deck. Since your deck hasn't been cleaned for some time, it's a good idea to bring out the heavy-duty Shop Sweep® Indoor/Outdoor Shop Vac that not only vacuums up dirt, litter and other debris, but its tough nylon impeller mulches it! And you don't have to stop with just vacuuming the deck: The Shop Sweep® Indoor/Outdoor Shop Vaccan consume pine needles, lawn clippings, saw dust, wood chips and even litter, so once you have it fired up, you can keep cleaning all around the house.
Deck Washing
Once your deck is prepared and debris-free, the next step in cleaning a deck is to wash it thoroughly. Easily attach a Deck Cleaning Brush to your water hose to quickly clean dirt, grime and bird residue from your deck floor. The Deck Cleaning Brushhas strong bristles on three sides to tackle those tough deck cleaning messes and a soft squeegee on the fourth side to remove water.
After the long winter months, you might have some moss or algae build-up that requires you to use something a little stronger than water to clean your deck. Just apply some environmentally friendly deck cleaner with a sprayer or brush, let it work for 5-10 minutes (read label on package) and then spray it away with your hose.
Now that your deck is clean and there is little left for you to track into your home, you can clean your sliding door track with an ergonomically designed Track Cleaning Brushthat is so tough it can remove dirt, mold and even soap scum from those hard-to-reach places.
Washing a House
Once you're done cleaning your deck, why not take your cleaning to new heights and wash down the exterior of your home? Attach a 32-oz bottle of Multi-Purpose House Washto your garden hose and watch as the non-toxic wash goes to work removing dirt, bird residue, tree sap, mildew, moss and algae from your siding or wood panels.
If, after using the Multi-Purpose House Wash, you notice calcium, lime and other hard water stains or outright rust on your siding, stone, masonry or other areas, eliminate it with Rust Remover. Biodegradable and non-flammable, Rust Removerdissolves most stains and can protect bare metal for up to 12 months.
Not enough water pressure from your garden hose? Use an Electric Pressure Washer to reach all those stubborn areas of your house from top to bottom. You can usually find a compact electric pressure washer that has wheels so you can roll it along as you work, whether it's washing away moss from your deck or oil stains from your driveway. The spray is adjustable from fine to intense, so you can use the power washer for a multitude of cleaning jobs without the risk of surface damage. Pressure washers are high powered and you should always use caution when using one.
Washing Windows
Your deck might be clean, but can you see it through your windows? What about from the second floor windows? For those high, hard-to-reach windows, use a Telescoping Washer Setthat has an adjustable aluminum pole that attaches to your hose. A soap dispenser on the pole allows you to easily add a liquid cleaner to your washing routine. The window washer set includes a 7-pattern spray nozzle, window squeegee, round soft brush, 10″ floor brush and even a brush for washing a car.
Don't forget to clean the screens! You can either take the window screens down, scrub them and hose them off, or you can attach a Window Screen Vacuum Attachment to easily whisk the dirt away while they remain in the window frames.
I took a 5-by-20-foot section of garden bed by my tiny lawn to see how much I could grow in just that 100 square feet. I wanted to produce a lot of food, and because it was part of my edible landscape, it had to look good, too.
The Plants
I wanted to make this garden simple — something anyone in the United States could grow. I didn't include fancy vegetable varieties; I chose those available at my local nursery as transplants. I also selected vegetables that are expensive to buy at the supermarket, as well as varieties that my experience has told me produce high yields.
The first season (spring/summer 2008), I grew the following:
Two tomato plants: 'Better Boy' and 'Early Girl'
Bell peppers, which are often luxuries at the market when fully colored: two 'California Wonder,' two 'Golden Bell,' one 'Orange Bell,' and one 'Big Red Beauty'
Four zucchinis: two green 'Raven' and two 'Golden Dawn'
Four basils (expensive in stores but essential in the kitchen)
18 lettuces: six 'Crisp Mint' romaine, six 'Winter Density' romaine, and six 'Sylvestra' butterhead
The only plants I grew from seed were the zucchinis. Hindsight is always 20/20; I should have thinned each of the zucchini hills to a single seedling, but I left two in each hill. As a result, I needed to come up with creative uses for zucchini, including giving them away as party favors at a dinner I hosted.
It looked a bit barren at first, but the garden flourished — especially the lettuces. Within several weeks, I started picking outer leaves for salads for neighbors and myself. The weather forecast predicted temperatures in the upper 90s. I was heading out of town and feared the lettuces would bolt, so I harvested the entire heads earlier than I normally would. Within about a month of transplanting the lettuces into the garden, I had grown enough for 230 individual servings of salad. And by that time, the tomatoes, zucchinis and pepper plants had nearly filled in the bed.
A Living Spreadsheet
Although I've grown hundreds of varieties of vegetables over the years and kept rough notes, this garden was different.
We created spreadsheets for each type of plant, and we kept meticulous records each time we harvested. We recorded the amount — pounds and ounces, as well as number of fruits (for each cultivar of tomato, zucchini and peppers) or handfuls (for lettuces and basil).
The Investment: Time and Money
This 100-square-foot plot took about eight hours to prepare, including digging the area, amending the soil, raking it smooth, placing stepping stones, digging the planting holes, adding organic fertilizer, and setting the plants and seeds in the ground. On planting day, I installed homemade tomato cages (store-bought ones are never tall or sturdy enough) and drip irrigation. And I mulched well — a thick mulch is key to cutting down on weeding, which is the biggest time waste in the garden, in my opinion.
We hand-watered the bed for a few weeks to allow the root systems to grow wide enough to reach the drip system. Three times over the first month we routed out a few weeds, which was only necessary until the plants filled in and shaded the soil.
Tomatoes in my arid climate are susceptible to bronze mites that cut down on the harvest and flavor. To prevent mites, we sprayed sulfur in mid-July and again in mid-August, which took about 30 minutes each time. In rainy climates, gardeners often need to prevent early blight on tomatoes. To do so, rotate tomato plants to a different area of the garden each year and mulch well. After the plants are a few feet tall, remove the lower 18 inches of leafy stems to create good air circulation.
For the rest of the season, we tied the tomatoes and peppers to the stakes as they grew upward, cut off the most rampant branches, and harvested the fruits. The time commitment averaged about an hour and a half each week. (Our harvesting was more time-consuming than average because we counted, weighed and recorded everything we picked.)
To determine what my harvest would cost in the market, I began checking out equivalent organic produce prices in midsummer. On a single day in late August, I harvested 49 tomatoes, nine peppers, 15 zucchinis of many sizes, and three handfuls of basil — which would have totaled $136 at my market that day.
From April to September, this little organic garden produced 77.5 pounds of tomatoes, 15.5 pounds of bell peppers, 14.3 pounds of lettuce, and 2.5 pounds of basil — plus a whopping 126 pounds of zucchini! Next time I won't feel bad about pulling out those extra plants.
I figured the total value of my 2008 summer trial garden harvest was $746.52. In order to get a fair picture, I also needed to subtract the cost of seeds, plants and compost (I can't make enough to keep up with my garden), which added up to $63.09. That leaves $683.43 in savings on fresh vegetables. Of course, prices vary throughout the season and throughout the country. 
Choose indeterminate tomatoes. They keep growing and producing fruit until a killing frost. (Determinate varieties save space but ripen all at once.)
 In spring, plant cool-season vegetables, including lettuce, mesclun and stir-fry green mixes, arugula, scallions, spinach and radishes. They are ready to harvest in a short time, and they act as space holders until the warm-season veggies fill in.
 Grow up. Peas, small melons, squash, cucumbers and pole beans have a small footprint when grown vertically. Plus, they yield more over a longer time than bush types.
 Plants such as broccoli, eggplant, peppers, chard and kale are worth the space they take for a long season. As long as you keep harvesting, they will keep producing until frost
Bean Teepee Make a cool, leafy hiding place! Somewhere in your garden, create a fun hiding place for kids to keep cool in the Summer! What You Will Need: 4×4-foot Garden Patch 8-12 Bamboo Stakes (at least 6 feet long) String, Scissors, Pole Bean Seeds (such as Scarlet Runner Bean or Blue Lake)
What You Do: When the weather warms up, find a spot in the garden that is about 4 feet on each side. Make sure the ground is ready to plant by digging up the soil until it is crumbly. Tie stakes together at the top and set them upright in the middle of your garden patch. Spread the bottom ends of the stakes out to make a circle. Leave an opening between 2 stakes wide enough for a "door" into the teepee. Soak your bean seeds overnight to promote germination. Plant 4 or 5 seeds one inch deep at the bottom of each pole. Keep the seeds watered while they are sprouting. Once the seeds begin to sprout, they should find the stakes themselves and climb upward. If not guide them to be certain they cover the poles to form teepee. By mid-Summer, your bean teepee should be ready to play in! Spread a tarp or old blanket on the ground inside and invite your friends over!
Additional Ideas and Tips: If you want more color on your Bean Teepee, plant flowering vines along with the bean seeds — Morning Glories make a colorful addition. Chart the growth of your bean sprouts — a great math lesson!
Growing your own plants can not only save you lots of money on your grocery bill, but a nice landscape can improve the value of your home. If you're creative, you can have a great garden with very little cost. Here are some of my favorite tips to get you started:
Tools:Watch people who are moving. Ask if they are leaving their lawn equipment and if you can have it or buy it cheap.

Use an old mailbox out in the garden to store your clippers, plastic bags and gloves. (This is my most used item in my garden!) It is especially wonderful because the kids and Hubby don't know where my tools are, so I don't have to worry about them borrowing the tools!

Use wedding tulle found at fabric stores instead of shade cloth to shade plants from the sun or to keep the birds from eating your fruit. It's much cheaper. Better yet, ask a just married bride if you can have the tulle from her wedding.

Cheap Plants:

If you see plants at a store that are in bad shape but not dead, talk to the manager. Ask him if he will give you a "deal" if you take them off his hands. Most of the time they will because the plants look bad and they don't want to mess with them anymore.

Last year I was able to purchase over 50 large 1/2 gallon-gallon sized perennials for $50. (over $600 retail) All but about 5 of them lived and I was able to take those back and get my money back. Most home improvement and discount stores have a guarantee that if your plant dies within one year, you can bring the dead plant and the receipt and they will give you your money back or give you a new plant.

Buy seeds on sale at the end of the season. Put them in a brown paper bag in the refrigerator for better storage. Seeds usually last many years beyond the "past due" date on the packet.

 
Mulch:
Ask a tree trimming service to give you their wood chips for mulch if they are in the area.
Some cities also have a free mulch program where the city tree trimmers dump all the wood chips. Call your local County Extension and find out if there is one in your area.
If you just need a few bags, look for torn open bags at the home improvement store. Our local store has a pile where they dump all the torn open bags of mulch and rocks. They sell the bags for $1 each, saving you up to 75% off! Most just have a few chips missing.
Use shredded paper or newspaper under mulch. This way you can use fewer wood chips.
Keep a shower curtain or tarp in your car at all times. This way if you find a good deal on mulch or plants you can take advantage of the deal right away without messing up your car.
Containers:
Use deli trays with lids to start seeds. They are mini greenhouses!
Ask the cemetery if you can have the pots they throw away after Memorial Day. (You can dry the almost dead flowers for potpourri.) Look in dumpsters. Many garden centers at the discount stores throw away the dead plants, pots and all. Ask permission first.
Use Styrofoam peanuts in the bottom of pots for drainage. You can also use small plastic six inch pots, soda cans or plastic bottles in the bottom of larger pots so you don't have to use so much soil and to make the pots lighter in weight.
Misc. tips
Use milk jugs as drip irrigation. Poke 2 or 3 small holes in the bottom of the jugs and place next to plants. Fill with water and screw the lid back on … they will slowly water you plants all day.
Use Christmas lights around fences to add sparkle in the middle of summer. Hang them in trees or line paths with them for extra effect.
Use vinegar in a spray bottle to kill weeds. ONLY spray the weed. It will kill any grass or plants you want to keep if you get it on them.
For Kids
Have kids water the plants after they swim in the kiddy pool. Have them take buckets of water from the pool and water the plants when the pool needs to be emptied.
Buy or ask for sandbags after heavy rains. Use the sand for paths or for the kid's sandboxes. (Only use sand from clean floodwater situations.)
Save scraps of soap when they get too small to bathe with and put them in an old nylon stocking. Knot and hang the nylon on an outdoor faucet.
Homemade Tough Hand Cleaner
1/4 Cup grated Fels Naphtha soap ends
2 Tbsp. mason's sand or pumice
1 Cup water
Place soap and water in a saucepan. Place over low heat; stir until soap is melted. After mixture cools, add mason's sand or pumice. Store in a cottage cheese container or margarine tub. To use, dip fingers into soap mixture and lather hands. Rinse well. This works well on greasy tools, also. Be sure to rinse and dry tools thoroughly.