In the fall is when you want to get ready for the winter cold. The worst thing in the world is trying to put your storm windows in when its 20 degrees outside. Or worse, not having your sprinkler system purged before the freezing weather comes. I'm going to give you a fairly easy checklist of things to do for the various systems of your home. From plumbing to roof, we'll walk through each system and hit the major things to make sure you do before winter so you can enjoy the snow and not worry about your home.
OK, lets start with the basics of making sure you have heat when you need it. The time to check that is in the Fall, no later than the end of October. Give your system a test run through and make sure all systems are "GO".
Heating System Checklist
Test Run:
Turn the thermostat to heat mode and set it to 80 degrees just for testing. You should hear the furnace turn on and warm air should blow within a few minutes. If it's running OK, turn the thermostat back to its normal setting. If it's not running properly, you can try to diagnose it. Depending on what's wrong, you can fix it yourself or you may need a qualified service technician.
Seasonal Maintenance:
Either have the furnace checked by a service technician or do it yourself.
Replace the Air Filter:
Put in a new clean air filter.
Fuel:
If you have a propane or oil furnace, make sure to have your fuel storage tank topped off and ready to go.
Heating Vents:
Clear obstacles to heating vents so air can freely flow.
Check for Carbon Monoxide Leaks:
This silent killer can easily be detected with either an inexpensive test badge or battery operated alarm. Whichever way you decide, just please decide to protect your family with one of these units.
Although not thought about much in warm weather, the wood burning fireplace and chimney can be a major source of cold air leaks and other issues in winter. So the chimney and fireplace need a little going over before winter sets in.
Chimney and Fireplace

Check that the chimney is clear of any nests from birds, squirrels or other animals.
Check flue damper operation. Make sure it opens and closes fully, and that it is able to be locked in the open or closed position.
Check chimney draft. Make sure the chimney will draw up the fire and smoke properly. Test this by taking several sheets of newspaper and rolling them up. Then with the fireplace damper in the open position, light the newspaper in the fireplace. The smoke should rise up the chimney. If it doesn't, you have an obstruction and need to call a professional in to clean the chimney of creosote and ash and possible debris.
If it has been several years (or never!) since you had your fireplace chimney cleaned, you should have it done by a professional chimney sweep. Definitely not a fun DIY project.
Inspect the fire brick in the fireplace. If you see any open mortar joints have them repaired immediately! A fire can spread into the stud wall behind the masonry fire brick through open mortar joints.

Plumbing is especially susceptible to cold weather and freezing. Burst pipes from freezing can cause some of the most expensive repairs in the home. So let's go over some of the basics to make you have them covered.

Insulate Exposed Piping
If you have any exposed water or drain piping at all in uninsulated spaces such as in a crawlspace, attic, outside walls, etc., make sure to insulate them with foam insulation at a minimum. Ideally you should wrap them with electrical heating tape first, then insulate them.
Pipe Wrap and Insulating Tape 
Exterior Faucets
Known as hose bibbs or sill-cocks, the exterior faucet needs to have its water supply turned off inside the house, and you also need to drain water from it by opening up the exterior faucet. You may also want to consider an insulated cover for the hose bibb. And remember to disconnect your garden hoses from the sill cocks or outside faucets and drain them if you store them outside.

Seasonal Shut Down
If you are shutting down a property for several months you should always shut off the water supply and drain the plumbing system. If a leak were to occur without occupancy, the damage could be catastrophic.
Infiltration of cold air from air leaks around doors and windows is as significant a contributor to your heating bill as is poor insulation in the walls and ceiling. An easy way to reduce you heating bill is to reduce these drafts with simple weatherstripping.
Windows
On a day when it's windy outside, close your windows and feel for air leaks. You can use an incense stick for this too if you don't mind the smell. Watch the smoke trail and if it becomes anything other than vertical, you have an air leak. Typically air leaks will be at the edges where the window is hinged, slides or meets another unit, such as between the two panels of a double hung window.
Although you can tape plastic over the windows to seal them, this can be expensive and look bad. It can also reduce much needed light in the winter unless you use the shrink-wrap type of plastic seal. So a better and easier solution is to use inexpensive

rope caulk

.
Press the rope caulk into all the joints where air is leaking.
Doors
The easiest fix here is to check for weatherstripping on the side and bottoms of the doors. Install weatherstripping on any leaking doors.
Infiltration of cold air from air leaks around doors and windows is as significant a contributor to your heating bill as is poor insulation in the walls and ceiling. An easy way to reduce you heating bill is to reduce these drafts with simple weatherstripping.Windows

On a day when it's windy outside, close your windows and feel for air leaks. You can use an incense stick for this too if you don't mind the smell. Watch the smoke trail and if it becomes anything other than vertical, you have an air leak. Typically air leaks will be at the edges where the window is hinged, slides or meets another unit, such as between the two panels of a double hung window.
Although you can tape plastic over the windows to seal them, this can be expensive and look bad. It can also reduce much needed light in the winter unless you use the shrink-wrap type of plastic seal. So a better and easier solution is to use rope caulk.
Press the rope caulk into all the joints where air is leaking.

Doors

The easiest fix here is to check for weatherstripping on the side and bottoms of the doors. Install weatherstripping on any leaking doors.
Lastly, you'll want to prepare your yard for winter too. Let's take a look at what can be done for the grass, deck and outdoor amenities around the home.
Outdoor Landscape
Excellent information about getting your yard ready for winter can be found at your local Ace store.
Cover patio furniture.
If your deck needs it, consider giving it a fresh coat of sealer before winter.
Drain the gas from your lawn mower or just let the mower run until it is out of gas.
Drain any water fountains, unplug the pumps and prepare for winter.
Now if you use this handy checklist winter should not be a problem for you.
Last winter was the fourth warmest for the contiguous 48 since record keeping began in 1895, with 24 states experiencing below-normal precipitation. In fact, California experienced its second driest winter ever. In only 10 states—chiefly across the nation's midsection— was winter precipitation above normal.
The situation became critical this past spring and summer with broiling hot temperatures across much of the country and the most severe drought conditions the nation has seen in more than 50 years.
For the coming season, we're predicting that winter will return to some – but not all – areas. We think it will be a "winter of contraries, as if Old Man Winter were cutting the country in half. The eastern half of the country will see plenty of cold and snow. The western half will experience relatively warm and dry condition. In other words, as in the political arena, the climate this winter will render us a nation divided.
We predict that real winter weather will return to areas from the Great Lakes into the Northeast. Most eastern states – as far south as the Gulf Coast – will see snowier than normal conditions and cooler temperatures.
We are "red flagging" February 12–15 and March 20–23 for major coastal storms along the Atlantic seaboard; storms bringing strong winds and heavy precipitation.
But on the other side of the country, winter will continue its hiatus for another year. The forecast for west of the Continental Divide – the Pacific Northwest, desert Southwest, Pacific Coast – calls for mild temperatures and below-normal precipitation.
Meaning
An unseasonably warm, dry and calm weather, usually following a period of colder weather or frost in the late Autumn (or in the Southern hemisphere, where the term is less common, the late Spring).
Origin
The origin of other 'Indian' phrases, like Indian giver, Indian sign, are well-known as referring to North American Indians – who prefer to be called Native Americans or, in Canada, First Nations. The term Indian summer reached England in the 19th century, during the heyday of the British Raj in India. This lead to the mistaken belief that the term referred to the Indian subcontinent. In fact, the Indians in question were the Native Americans, and the term began use there in the late 18th century.

Indian summer is first recorded in Letters From an American Farmer, a 1778 work by the French-American soldier turned farmer J. H. St. John de Crèvecoeur (a.k.a. Michel-Guillaume-Jean de Crèvecoeur):
"Then a severe frost succeeds which prepares it to receive the voluminous coat of snow which is soon to follow; though it is often preceded by a short interval of smoke and mildness, called the Indian Summer."
There are many references to the term in American literature in the following hundred years or so. In the 1830s Indian summer began to be used figuratively, to refer to any late flowering following a period of decline. It was well enough established as a phrase by 1834 for John Greenleaf Whittier to use the term that way, when in his poem Memories he wrote of "The Indian Summer of the heart!". Thomas De Quincey, republished in Bentley's Works of Thomas De Quincey, 1855, wrote:
"An Indian summer crept stealthily over his closing days."
In his story The Guardian Angel, 1867, Oliver Wendell Holmes mentions "an Indian summer of serene widowhood".
The English already had names for the phenomenon – St. Luke's Summer, St. Martin's Summer or All-Hallown Summer, but these have now all but disappeared and, like the rest of the world, the term Indian summer has been used in the UK for at least a century.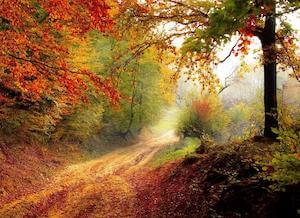 As a climatic event it is known throughout the world and is technically called a weather singularity, i.e. a climatic event that recurs around the same time of year. The frequency, depth and longevity of the weather pattern is clearly dependent of geography. It is most frequently associated with the eastern and central states of the USA, which have a suitable climate to generate the weather pattern, i.e. a wide variation of temperature and wind strength from summer to winter. Many of those states are also famous for their areas of hardwood forest, which show up well during Indian summers when the leaves have already begun to turn and the sun is shining.
Why Indian? Well, no one knows but, as is commonplace when no one knows, many people have guessed. Here are a few of the more commonly repeated guesses:
When European settlers first came across the phenomenon in America it became known as the Indian's Summer.
The haziness of the Indian Summer weather was caused by prairie fires deliberately set by Native American tribes.
It was the period when First Nations/Native American peoples harvested their crops.
The phenomenon was more common in what were then North American Indian territories.
It relates to the marine shipping trade in the Indian Ocean (this is highly dubious as it is entirely remote from the early US citations).
It originated from raids on European settlements by Indian war parties, which usually ended in autumn.
In a parallel with other 'Indian' terms it implied a belief in Indian falsity and untrustworthiness and that an Indian summer was an ersatz copy of the real thing.
The incidence of Indian summers has increased significantly over the past decade or so (in the UK at least – I can't speak for other countries) as one symptom of the unstable weather caused by global warming. The Native Americans espoused, and lived, a life of harmony with nature that is now being put forward by supporters of Deep Green philosophy and the Gaia Theory as a solution to the world's climate problems. It is ironic and sad that they should have given their name to something that has now become associated with global warming.
The weather is turning cooler, and it's time to starting preparing for winter weather. Here are some tips to help get your home ready for the cold:
Get inspected: If you plan to use a fireplace or wood stove for emergency heating, have your chimney or flue inspected each year. Ask your local fire department to recommend an inspector, or find one in your telephone directory under "chimney cleaning." Install a smoke detector and a battery-operated carbon monoxide detector near the area to be heated. Test them monthly, and replace batteries twice a year.
Protect your pipes: Insulate any water lines that run along exterior walls so your water supply will be less likely to freeze. Learn how to shut off water valves in case a pipe bursts.
Bring items indoors: If you have pets, bring them indoors. If you cannot bring them inside, provide adequate shelter to keep them warm and make sure that they have access to unfrozen water. Cover or bring indoors any plants that you want to protect from freezing temperatures.
Weatherize: Caulk and weather-strip doors and windows. Add insulation to your walls and attic, if necessary. Consider purchasing insulated doors and storm windows to further protect your home from the cold. This will also help lower your heating bill.
Buy supplies: In the event of a severe winter storm, you'll need to have supplies on hand, such as rock salt to melt ice on walkways, sand to improve traction and now shovels and other snow removal equipment. Prepare for possible isolation in your home by having sufficient heating fuel; regular fuel sources may be cut off. For example, store a good supply of dry, seasoned wood for your fireplace or wood-burning stove.
Remember fire safety: Keep fire extinguishers on hand, and make sure everyone in your house knows how to use them. House fires pose an additional risk, as more people turn to alternate heating sources without taking the necessary safety precautions. If you're going to use a space heater, make sure it has been tested according to the latest safety standards. Put it on a level, non-flammable surface away from bedding, drapes and furniture. And never leave a space heater on when you leave the house or when you go to sleep.
Watch your roof: Hire a contractor to check the structural ability of the roof to hold unusually heavy weight from the accumulation of snow or water
1 Add a second layer of insulation to your attic. R-30 insulation is considered the minimum. If your house is relatively new, it probably conforms. If not, consider adding insulation.
2 Caulk around window and door glass and trim, and all exterior trim. Install or replace weather stripping on all doors and windows. Check for cracks around pipes and electrical outlets entering or exiting the walls.
3 Install storm windows and doors if you have them. Consider purchasing storm windows if you have older windows that are not made from modern insulated glass.
4 Have your heating system checked by a licensed heating/air-conditioning professional. Most furnace manufacturers recommend at least annual inspections.
5 Check gutters and clean them if necessary. Clogged gutters can result in basement flooding when the snow melts (see 'eHow to Clean Gutters').
6 Replace any roof shingles that are missing or damaged (see 'eHow to Replace Asphalt Shingles').
7 Have your chimneys inspected by a chimney service and, if necessary, cleaned (see 'eHow to Clean Out a Fireplace and Chimney').
8 Check the foundation for areas where water may puddle.
9 Trim trees away from the house. Have dead trees and branches removed by professional tree trimmers, or do it yourself.
10 Drain and shut off outdoor water faucets.
11 Insulate any water pipes that are exposed to freezing cold.
12 Replace the batteries in carbon monoxide and smoke detectors, and check to make sure these are all in working order.
13 Check fire extinguishers and charge and replace as necessary.
14 Make sure you are stocked with rock salt, sand, snow shovels and any other items you will need during the winter.
Things to have on hand include extra food and water as well as…
A shovel

. Even if you live in an apartment you should own a shovel as you may need to dig yourself out before your ground crew gets in, and they are unlikely to dig out your car.

 

Flashlights.

Make sure you have good quality flashlights and lamps with fresh batteries. Also purchase "Self Powered Flashlights" and "Self Powered Radios". Some models will also charge your cell phone.

 

Food. Make sure you have enough non-perishable food to last a few days. Even if your budget is tight you should make sure to keep extra food in the house. Canned and powdered foods are good for long-term storage.

 

A Can Opener .

Make sure to have a good old-fashioned manual can opener.

 

Blankets and Warm Clothing. You may already have these items, but remember you will need enough blankets to keep you warm without any heat and in adverse conditions.

 

A Camping Stove or Barbeque Grill. A gas powered camping stove is a wise investment for any emergency situation. If you have an electric stove in the kitchen a camp stove is almost a necessity. Be sure you use it with proper ventilation, and have plenty of backup fuel.

 

Matches to light your gas range/camping stove/candles. Do not rely on lighters that can run out of fuel or break down all too easily.
            A Battery Operated Radio. This way you can get news without wall power. Make sure the batteries are good. It is also possible to buy a motion charging radio, as you can with a flashlight. 
Prescription medications. Like food, it is always wise to have enough to last you a few days.

 

Anything else vital to your household. You should always have ample supplies of items like diapers, formula, batteries, and so on before the storm hits.

 

A wall phone with a cord, or a portable cellphone charger. Cordless home phones will not work when the power is out. Many states require at least one wall plugged phone, which receives power from the telephone connection, in all households.
Your results  
Each winter, on average, your risk of frost is from September 18 through May 19.Almost certainly,however, you will receive frost from October 3 through May 3.

You are almost guaranteed that you will not get frost from June 4 through September 3.

Your frost-free growing season is around 122 days.
1.       Close all of your windows properly. This includes making sure storm windows are installed and closed in place if you have them. Windows should be latched. Open them during the day if the outside temperature is higher than the inside.
2.       Keep your windows air-tight. You may want to purchase removable window-caulk or plastic to better seal them. At a minimum, stuff a towel or shirt in front of any noticeable leaks.
3.       Use cheap clear shower curtains over the windows that receive sun light. This will keep the cold air out, and the warmth from the sun will heat your house without cold air coming in. You could also cover your windows with clear plastic sheets and make it airtight.
4.       Seal your doors. Check around the door frame and also under the door. You may want to buy weather stripping or a door sweep. Again, at minimum, make a draft dodger or stuff a towel at the bottom of the door.
5.       Use smaller rooms. If, for example, you have a bedroom that is much smaller than your living room you could choose to use it as your bed-sitting room.
6.       Close off any un-used rooms. The closed door makes that room another barrier between you and the frigid outdoors. It also stops air from circulating as much, which reduces heat loss. Also, home improvement stores sell magnetic register covers to 'shut off' forced air furnace registers in unused rooms. That way when the heater does click on, only the registers in the rooms you use will pump out heat. Makes for more efficient use of the heater. Check that all heat registers are adjusted open, especially where plumbing pipes might freeze. Unblock cold air returns in heated rooms [they may be blocked with furniture or rug] so heat can circulate efficiently.
7.       Put up curtains. A set of heavy curtains can block a draft. Open them when the sun is shining and close them when it's not.
8.       Put down a rug or carpet.
9.       Add insulation in the attic and the crawl space.
10.   Exercise; get in shape. 20 minutes of vigorous exercise can warm you up and keep you warm well after the exercise session. And your healthy body is generally more tolerant of the cold.
11.   Dress warmly. A hat is your number one friend at a time like this. A large percentage of body heat loss occurs in the head region (This is a myth: heat lost from the head is proportionate to the surface area [roughly 10%]), so it is crucial to keep your head covered. A turtleneck sweater can work wonders. Dress in layers, especially with wool or cotton clothing. Don't wear your winter coat or you will have nothing else to put on when you go outside. When you are sitting still put on a blanket.
12.   Tights. If you still get cold legs then you could buy a 2 pack of black tights from your local shop, make sure they are opaques. Wear one or more pairs over each other under your clothes, this will provide your body with another layer of clothing to trap warm air in. It is ok for men to do this as well.
13.   Cook. Steam will raise the moisture level in your home, making the air more dense, and it uses more energy to heat humid air. Limit cooking that gives off steam, as this will increase the humidity in the air and make your house damp. Make cookies or a pie instead, as your oven will help to dry the air and heat the kitchen. The kitchen will be warm while you are cooking, and then you can have a great home cooked meal too!
14.   Drink warm beverages. Make a cup of tea or coffee. Sip some warm broth.
15.   Light a candle. A candle/candles can produce a lot of heat, just be mindful of where they are placed and do not leave them unattended. A trip to most any grocery store or discount store can provide you with a number of candles cheap!
16.   Find a friend or pet to snuggle with. The living body of any warm-blooded being is a furnace unto itself.
17.   Be active. Moving around produces body heat! The more you are active, the better your blood circulation will be. This will mean that hot blood gets to your fingers and toes, keeping them warm.
18.   Evaluate and Plan. Consider how you got yourself into this position. If you are suffering a cold house due to an energy blackout, the above tips will help you get through this short term emergency. But if you are living with a non-working heater because you don't have enough money to pay for heat repairs, you will need to start saving money in the bank for exactly this type of emergency. Pay yourself first so that you can get through any and all emergencies as they arise. Don't leave yourself out in the cold.
19.   Let as much sun hit your house as possible. Check for obstructions (e.g. plants,sheds )to the sun's light reaching your house and remove items leaning against walls etc. on the sunny side ( ideally put them back again at night for additional insulation ). One note though, if your home is in an exposed location you will have to balance the wind/sun break effect to suit.
20.   Sit on a 50 watt heating pad. Rather than heating the whole house or room, sit on a low wattage heating pad.[Warning! Safety instructions for heating pads say not to do this.–.]
21.   Buy a thick bathrobe or dressing gown. Think of it as a big, fluffy blanket with sleeves. They are very warm and comfortable, and you can even sleep in them!
22.   Go visiting. Purposefully spend time in a location that is heated at no cost to you: library, church, a friend's house.
23.   Get a dehumidifier…dehumidifiers are designed to remove the moisture from the air not to cool…the way they remove this moisture is to reheat the air to further dry it after it releases its moisture. Basically, the room temperature humid air enters the dehumidifier where it is cooled to its dew point which results in its releasing its moisture. This dried air is then heated by the combination of latent heat of condensation, which is a natural result of the process, and by circulating through the condenser where heat is exchanged from it to the air. The result is the air going back into the room will be slightly warmer than it was going in, usually around 2 to 5 degrees.
Fool the eye: Sometimes warmth is a matter of perception. Warm colors and textures make you feel warmer so change out your decor. Try a throw so you can snuggle under it.
Cut a rug: Cover up your bare floors with a rug. 
 Bake something: Stews, roasts, casseroles and soups are made    for     the cold weather because they cook at low temperatures for a long period of time and, of course, they warm you up going down.
Drink something: Wrap your hands around a warm mug of tea, cocoa or coffee.
Let the sun in: Open curtains and blinds during the day.
Change your bedding: Switch to flannel sheets, a down comforter, use extra blankets.
Clean the house: Not only will your house be cleaner but activity will get your blood pumping.
Cover your head: It sounds silly but wearing a hat (and socks) to bed at night, even if the rest of you is clad in skimpy clothing, will keep you warm.
It's muggy in here: Use a humidifier. Humid air feels warmer. No humidifier? Open the bathroom door while you're showering.
Reverse the fan: We've heard that, since heat rises, running your ceiling fan in reverse will push the warm air back down to the ground.
Do your laundry: Nothing warms you up like clothing straight from the dryer.
It's drafty in here: Block drafts with weather stripping, a rolled up towel or a draft stopper.
It takes two: Snuggle up with your friends, or your significant other.
Something old fashioned: Try a hot water bottle or, before you get into bed, running a hot pan over your sheets. Bags of rice or dried beans, warmed in the microwave, are another option
So you've pulled your sweaters out of mothballs and found your mittens at the bottom of the coat closet. But what about your house — is it prepared for the cold months ahead?
You'll be a lot less comfortable in the coming months if you haven't girded Home Sweet Home for Old Man Winter.
With the help of several experts, we've boiled down your autumn to-do list to 10 easy tips:
1. Clean those gutters  
Once the leaves fall, remove them and other debris from your home's gutters — by hand, by scraper or spatula, and finally by a good hose rinse — so that winter's rain and melting snow can drain. Clogged drains can form ice dams, in which water backs up, freezes and causes water to seep into the house, the Insurance Information Institute says. 
As you're hosing out your gutters, look for leaks and misaligned pipes. Also, make sure the downspouts are carrying water away from the house's foundation, where it could cause flooding or other water damage.
"The rule of thumb is that water should be at least 10 feet away from the house," says Michael Broili, the director of the Well Home Program for the Phinney Neighborhood Association, a nationally recognized neighborhood group in Seattle.
2. Block those leaks
One of the best ways to winterize your home is to simply block obvious leaks around your house, both inside and out, experts say. The average American home has leaks that amount to a nine-square-foot hole in the wall, according to EarthWorks Group.
First, find the leaks: On a breezy day, walk around inside holding a lit incense stick to the most common drafty areas: recessed lighting, window and door frames, electrical outlets.
Then, buy door sweeps to close spaces under exterior doors, and caulk or apply tacky rope caulk to those drafty spots. Outlet gaskets can easily be installed in electrical outlets that share a home's outer walls, where cold air often enters.
Outside, seal leaks with weather-resistant caulk. For brick areas, use masonry sealer, which will better stand up to freezing and thawing. Even if it's a small crack, it's worth sealing up, it also discourages any insects from entering your home.
3. Insulate yourself
Another thing that does cost a little money — but boy, you do get the money back quick — is adding insulation to the existing insulation in the attic, regardless of the climate conditions you live in, in the (U.S.) you need a minimum of 12 inches of insulation in your attic.
Don't clutter your brain with R-values or measuring tape, though. Here's a rule of thumb on whether you need to add insulation: "If you go into the attic and you can see the ceiling joists you know you don't have enough, because a ceiling joist is at most 10 or 11 inches."
A related tip: If you're layering insulation atop other insulation, don't use the kind that has "kraft face" finish (i.e., a paper backing). It acts as a vapor barrier,  and therefore can cause moisture problems in the insulation.
4. Check the furnace
First, turn your furnace on now, to make sure it's even working, before the coldest weather descends. A strong, odd, short-lasting smell is natural when firing up the furnace in the autumn; simply open windows to dissipate it. But if the smell lasts a long time, shut down the furnace and call a professional.
It's a good idea to have furnaces cleaned and tuned annually. Costs will often run about $100-$125. An inspector should do the following, among other things: 
Throughout the winter you should change the furnace filters regularly (check them monthly). A dirty filter impedes air flow, reduces efficiency and could even cause a fire in an extreme case. Toss out the dirty fiberglass filters; reusable electrostatic or electronic filters can be washed.
5. Get your ducts in a row
According to the U.S. Department of Energy, a home with central heating can lose up to 60% of its heated air before that air reaches the vents if ductwork is not well-connected and insulated, or if it must travel through unheated spaces. That's a huge amount of wasted money, not to mention a chilly house.
Ducts aren't always easy to see, but you can often find them exposed in the attic, the basement and crawlspaces. Repair places where pipes are pinched, which impedes flow of heated air to the house, and fix gaps with a metal-backed tape (duct tape actually doesn't stand up to the job over time).
Ducts also should be vacuumed once every few years, to clean out the abundant dust, animal hair and other gunk that can gather in them and cause respiratory problems.
6. Face your windows
Now, of course, is the time to take down the window screens and put up storm windows, which provide an extra layer of protection and warmth for the home. Storm windows are particularly helpful if you have old, single-pane glass windows. But if you don't have storm windows, and your windows are leaky or drafty, they need to be updated to a more efficient window.
Of course, windows are pricey. Budget to replace them a few at a time, and in the meantime, buy a window insulator kit.  Basically, the kit is plastic sheeting that's affixed to a window's interior with double-stick tape. A hair dryer is then used to shrink-wrap the sheeting onto the window. (It can be removed in the spring.) "It's temporary and it's not pretty, but it's inexpensive (about $4 a window) and it's extremely effective."
7. Don't forget the chimney
Ideally, spring is the time to think about your chimney, because "chimney sweeps are going crazy right now, as you might have guessed.
That said, don't put off your chimney needs before using your fireplace. "A common myth is that a chimney needs to be swept every year not true. But a chimney should at least be inspected before use each year.
Ask for a Level 1 inspection, in which the professional examines the readily accessible portions of the chimney. Most certified chimney sweeps include a Level 1 service with a sweep.
Woodstoves are a different beast, however. They should be swept more than once a year. A general rule of thumb is that a cleaning should be performed for every ¼ inch of creosote. " Why? "If it's ash, then it's primarily lye — the same stuff that was once used to make soap, and it's very acidic." It can cause mortar and the metal damper to rot.
Another tip: Buy a protective cap for your chimney, with a screen. "It's probably the single easiest protection" because it keeps out foreign objects (birds, tennis balls) as well as rain that can mix with the ash and eat away at the fireplace's walls. He advises buying based on durability,not appearance.
One other reminder: To keep out cold air, fireplace owners should keep their chimney's damper closed when the fireplace isn't in use. And for the same reason, woodstove owners should have glass doors on their stoves, and keep them closed when the stove isn't in use.
8. Reverse that fan
"Reversing your ceiling fan is a small tip that people don't often think of.  By reversing its direction from the summer operation, the fan will push warm air downward and force it to recirculate, keeping you more comfortable. (Here's how you know the fan is ready for winter: As you look up, the blades should be turning clockwise.)
9. Wrap those pipes
A burst pipe caused by a winter freeze is a nightmare. Prevent it before Jack Frost sets his grip: Before freezing nights hit, make certain that the water to your hose bibs is shut off inside your house (via a turnoff valve), and that the lines are drained.
Next, go looking for other pipes that aren't insulated, or that pass through unheated spaces — pipes that run through crawlspaces, basements or garages. Wrap them with pre-molded foam rubber sleeves or fiberglass insulation, available at hardware stores. If you're really worried about a pipe freezing, you can first wrap it with heating tape, which is basically an electrical cord that emits heat.
10. Finally, check those alarms
This is a great time to check the operation — and change the batteries — on your home's smoke detectors. Detectors should be replaced every 10 years, fire officials say. Test them — older ones in particular — with a small bit of actual smoke, and not just by pressing the "test" button. Check to see that your fire extinguisher is still where it should be, and still works.
Also, invest in a carbon-monoxide detector; every home should have at least one.