Posts Tagged 'save money'
First the bad news: if you neglect spring lawn care (and related concerns pertaining to your mower), you could end up paying for it the rest of the year. Now the good news: spring lawn care doesn't entail nearly the amount of work that you'll have to invest in mowing alone throughout the summer months.
In fact, most of you will need to implement only about half of the following ten tips for spring lawn care, depending upon your own unique circumstances. Furthermore, I point out in a few instances below that the task in question is better performed as part of your fall lawn care, if you can wait that long.
Spring Lawn Care Tip #1: Raking
Raking will be your first task of spring lawn care. Okay, I can hear the groans coming from all lands near and far, wherever grassy carpets are cultivated: "But we already raked leaves in the fall!" Sorry, but raking is for more than just removing leaves: it's for controlling thatch, too. A thatch build-up of more than 1/2 inch is considered excessive.
Thatch is the reason why I recommend that, when you rake leaves in the fall, you make the effort to rake deeply. Don't just skim the surface, so as to remove the leaves. A deep raking will remove thatch, too, allowing you to kill two birds with one stone. Even if you followed this advice in fall, I still recommend a spring raking: it will remove grass blades that died over the winter — dead blades that are just waiting to become thatch!
But there's often another good reason for a spring raking. As you survey your lawn in spring, see if there are any matted patches, in which the grass blades are all stuck together. This can be caused by a disease known as "snow mold." New grass may have difficulty penetrating these matted patches. But a light raking will be sufficient to solve this problem.
Just when you should perform any of these spring lawn care tasks will depend upon the climate of your own region. But Mother Nature provides palpable cues in some cases. For instance, when you're pretty sure the snow season (if you have one) is over in your region, begin raking. Applying preemergent herbicides (see Tip #6) should be done sometime between the time the local forsythia bushes stop blooming and the time the local lilac bushes begin blooming.
Spring Lawn Care Tip #2: Check for Compaction
If your lawn is subjected to high levels of traffic year after year, it may eventually start to show signs of decline. In such cases, your lawn is probably suffering from compaction. For instance, the presence of moss plants signals compaction (among other things).
Lawn aeration is the remedy for compaction. The good news is that lawn aerators can be rented at your local rental center. The bad news is that the experts recommend postponing lawn aeration until fall. But if, during your "spring lawn checkup," you become aware of compaction, at least you can plan on setting aside some time in the fall to take care of it.
Spring Lawn Care Tip #3: Liming
Besides compaction, the presence of moss plants also signals acidity. But grass likes a neutral soil pH. You can solve this problem by liming your soil. But don't expect a quick fix: the effects of liming are slow to take place.
But first send a soil sample to your local county extension to determine the extent of your soil's acidity. The county extension will also be able to advise you on how much lime per square foot you'll need. Apply the lime using a lawn spreader.
But if your lawn has been doing fine and shows no signs of suffering from acidity, don't apply lime. Liming is only a corrective measure, not a preventive measure. A soil that is too alkaline will also cause your lawn problems, so too much lime is as bad as not enough.
Spring Lawn Care Tip #4: Overseeding
Is your lawn riddled with bare patches due to dog spots, heavy traffic or neglect? If so, you may need to apply grass seed to fill in those bare patches. This solution is known as "overseeding lawns." Apply a slow-release nitrogen fertilizer when you overseed. Five weeks after the grass germinates, apply a quick-release nitrogen fertilizer.
However, spring isn't the very best time for overseeding lawns. Fall is the preferred time, when the new grass won't have to compete with crabgrass (see Page 2), which is killed off by autumn frosts. So postpone overseeding until fall, unless your situation is dire.
Spring Lawn Care Tip #5: Fertilizing
Lawns can be fertilized organically by using compost and mulching mowers. But for those who prefer chemical fertilizers, Scotts provides a lawn fertilizing schedule. Many experts, however, recommend a lighter feeding in spring and a heavier one in late fall for cool-season grasses. Too much fertilizer in spring can lead to disease and weed problems. And if you have, indeed, already fertilized in late fall, your lawn is still "digesting" that fertilizer in spring.
In addition to the above tasks of spring lawn care, don't forget weed control and making sure your mower is ready for the mowing season.
For those who prefer weed-free lawns, spring grass care is as much about weed prevention as it is about fostering healthy lawn growth. Novices to spring grass care are often surprised to learn that not all lawn weeds are battled in the same manner. Depending upon whether a weed is an annual or a perennial, you will use a preemergent herbicide or a postemergent herbicide against it.
Spring Grass Care Tip #6: Applying Preemergent Herbicides
If you know that you have a problem with the annual weed, crabgrass, then fertilization in spring should go hand in hand with the application of preemergent herbicides. As their name suggests, preemergent herbicides address weed control not "after the fact," but before their seedlings can even emerge. Preemergent herbicides accomplish this by forming something of a "shield" that inhibits seed germination. Don't undertake the core aeration task discussed on Page 1 after applying preemergent herbicides: to do so would be to "puncture" this shield, thereby decreasing its effectiveness.
Crabgrass begins its assault on lawns in spring, when its seeds germinate. In fact, my suggestion on Page 1 that overseeding be carried out in autumn, rather than spring, is based in part on the threat posed by a spring crabgrass invasion. "So why not just begin by killing the crabgrass first with a preemergent herbicide?" perhaps you ask. Well, the trouble is that most preemergent herbicides work against not only weed seeds, but grass seeds, as well!
You can appreciate the dilemma here. Overseeding is incompatible with the application of most preemergent herbicides. Yet, faced with competition from crabgrass in spring, you may find it difficult to establish your new grass. So while it's still possible to overseed in spring, it's simply easier to do so in fall. There will be no competition from crabgrass then, because the fall frosts kill off crabgrass.
If you must overseed in the spring, look for a product called, "Tupersan." Unlike other preemergent herbicides, Tupersan will not damage germinating lawn grass seed. But if you're committed to staying away from chemicals altogether in your spring grass care, postpone overseeding till fall.
Spring Grass Care Tip #7: Applying Postemergent Herbicides — Or Pulling Weeds
Keep an eye out for the emergence of the perennial weed, dandelion during the spring season, unless you find the presence of their cheerful yellow flowers in your lawn desirable. At the very least, you'll want to snap off their flower stems before they produce seed. If you're more ambitious, you can dig them out by the roots. Spraying dandelion weeds with postemergent herbicides is more effective in fall than in spring. If you do choose to spray, select an herbicide for broadleaf weeds.
If you prefer weed control without chemicals and have consistently practiced organic landscaping, you can harvest these "weeds" as dandelion greens and eat them!
No other power equipment is as intimately associated with and essential to landscaping as is the lawn mower. You need to have a lawn mower that will consistently get the job done without any hassles throughout the lawn mowing season. And you should also know how to use the lawn mower to your best advantage. Consequently, the final three of my ten tips focus on caring for, selecting and using lawn mowers.
Tip #8: Tuning Up Existing Lawn Mowers
Mowing the lawn all summer can be tiring enough, right? Why make it more difficult on yourself by putting up with a lawn mower that doesn't start up immediately? When a lawn mower is stubborn about starting up, that can be a sign that it needs a tuneup. Although it's often possible to get by without one, it is recommended that you have a lawn mower tuneup each year. Don't put it off till summer or pay someone else to do it. Learn how to tune up a lawn mower yourself using the following resource and have your machine ready to go for summer:
Tip #9: Buying a New Lawn Mower
Or perhaps you're fed up with your old lawn mower? Time for a change? This Q&A resource for consumers will help you decide on which type of lawn mower is best for you:
Tip #10: Reviewing Lawn Mowing Strategies
"What's there to know about lawn mowing?" perhaps you ask. "You just push the lawn mower and it cuts the grass, right?" At the most basic level, Yes. And if lawn mowing is merely a mindless chore that you perform to satisfy other people (and you really don't care much about the health of your lawn), then you needn't know any more about it.
However, if you do care about the health of your lawn, there's a bit more to lawn mowing than just keeping your grass short enough to prevent the neighborhood from thinking your house has been abandonned! Spring is a good time to learn (or review) lawn mowing strategies — before it becomes so hot outside that it's hard to think!
Question: Is there a right and a wrong method of lawn mowing?
Answer: Yes. Alternate the direction in which you mow each lawn mowing session. You will thereby prevent your grass from "getting into a rut" (literally). If your lawn mower wheels pass over the same area in the same direction each time you mow, they'll form ruts over time. Switching lawn mowing patterns also wisely avoids having the lawn mower blade beating at the grass in the same direction at every mowing.
By pruning your fruit trees, you stimulate shoot growth, control the size and shape of the tree, and improve the quality of the fruit.
If you have not pruned before, don't worry! It is not difficult, and you'll get a real feel for how to prune fruit trees the more you work at it. And it's worth every minute!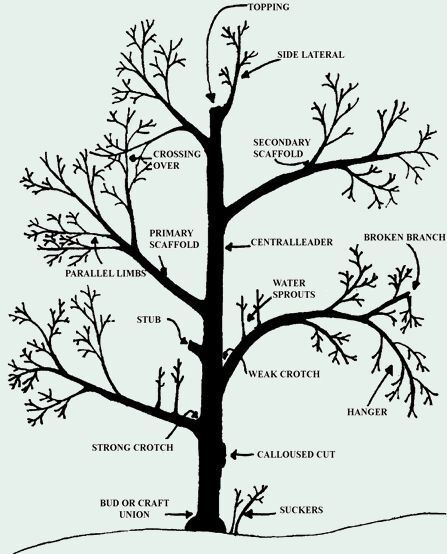 You'll want to follow a few specific fruit tree pruning instructions for different types of fruit trees. For instance, apple trees need a different pruning system than peach trees. Here are the basics:
The Central-Leader System:

This is used for pruning apple trees, pear trees, and sweet cherry trees. A "central leader" is the main stem or trunk of the tree from which other lateral branches develop.

Fruit tree pruning instructions for this method are based around thinning the lateral branches.

The Open-Center System:

Used for peach tree pruning, as well as pruning plum trees, nectarine trees, apricot trees and sour cherry trees where there is no dominant, vertical trunk (central leader).

Open center fruit tree pruning instructions are based around three or four main limbs set at wide angles with about five lesser branches on each.

The Modified-Leader System:

Mostly used for nut bearing trees, this can also be applied when pruning apple trees and pear trees. Modified-leader fruit tree pruning instructions are based upon giving the central leader and three or four lateral branches equal importance.
With this in mind, here are basic fruit tree pruning instructions that will get you off to a good start to getting the balance you want of shoot growth and fruit production:
General Fruit Tree Pruning Instructions
Always use sharp shears or saws so your cuts are clean. Use pruning shears on young trees and limbs less than 1/2 inch diameter, and lopping shears for your bigger cuts. For mature fruit trees, use a pruning saw.

Begin by removing dead wood and broken branches. Then cut out any wood that crosses or rubs against any other branches. This opens up the middle so the sun can get to all the fruit.

Make your cut close to a bud, to a joint in the branch, or to the trunk; never leave a stub. The pruning cut should be just above a bud. Make the cut at a backwards angle of about 30 degrees.

Prune stems just above a pair of opposing strong shoots or buds. If shoots or buds are staggered, choose a strong one and prune just above it.

Keep more horizontal branches, and prune more vertical branches.

Remove suckers (shoots) from around the base of the tree.

Get rid of all debris which can harbor pests and disease.
In the fall is when you want to get ready for the winter cold. The worst thing in the world is trying to put your storm windows in when its 20 degrees outside. Or worse, not having your sprinkler system purged before the freezing weather comes. I'm going to give you a fairly easy checklist of things to do for the various systems of your home. From plumbing to roof, we'll walk through each system and hit the major things to make sure you do before winter so you can enjoy the snow and not worry about your home.
OK, lets start with the basics of making sure you have heat when you need it. The time to check that is in the Fall, no later than the end of October. Give your system a test run through and make sure all systems are "GO".
Heating System Checklist
Test Run:
Turn the thermostat to heat mode and set it to 80 degrees just for testing. You should hear the furnace turn on and warm air should blow within a few minutes. If it's running OK, turn the thermostat back to its normal setting. If it's not running properly, you can try to diagnose it. Depending on what's wrong, you can fix it yourself or you may need a qualified service technician.
Seasonal Maintenance:
Either have the furnace checked by a service technician or do it yourself.
Replace the Air Filter:
Put in a new clean air filter.
Fuel:
If you have a propane or oil furnace, make sure to have your fuel storage tank topped off and ready to go.
Heating Vents:
Clear obstacles to heating vents so air can freely flow.
Check for Carbon Monoxide Leaks:
This silent killer can easily be detected with either an inexpensive test badge or battery operated alarm. Whichever way you decide, just please decide to protect your family with one of these units.
Although not thought about much in warm weather, the wood burning fireplace and chimney can be a major source of cold air leaks and other issues in winter. So the chimney and fireplace need a little going over before winter sets in.
Chimney and Fireplace

Check that the chimney is clear of any nests from birds, squirrels or other animals.
Check flue damper operation. Make sure it opens and closes fully, and that it is able to be locked in the open or closed position.
Check chimney draft. Make sure the chimney will draw up the fire and smoke properly. Test this by taking several sheets of newspaper and rolling them up. Then with the fireplace damper in the open position, light the newspaper in the fireplace. The smoke should rise up the chimney. If it doesn't, you have an obstruction and need to call a professional in to clean the chimney of creosote and ash and possible debris.
If it has been several years (or never!) since you had your fireplace chimney cleaned, you should have it done by a professional chimney sweep. Definitely not a fun DIY project.
Inspect the fire brick in the fireplace. If you see any open mortar joints have them repaired immediately! A fire can spread into the stud wall behind the masonry fire brick through open mortar joints.

Plumbing is especially susceptible to cold weather and freezing. Burst pipes from freezing can cause some of the most expensive repairs in the home. So let's go over some of the basics to make you have them covered.

Insulate Exposed Piping
If you have any exposed water or drain piping at all in uninsulated spaces such as in a crawlspace, attic, outside walls, etc., make sure to insulate them with foam insulation at a minimum. Ideally you should wrap them with electrical heating tape first, then insulate them.
Pipe Wrap and Insulating Tape 
Exterior Faucets
Known as hose bibbs or sill-cocks, the exterior faucet needs to have its water supply turned off inside the house, and you also need to drain water from it by opening up the exterior faucet. You may also want to consider an insulated cover for the hose bibb. And remember to disconnect your garden hoses from the sill cocks or outside faucets and drain them if you store them outside.

Seasonal Shut Down
If you are shutting down a property for several months you should always shut off the water supply and drain the plumbing system. If a leak were to occur without occupancy, the damage could be catastrophic.
Infiltration of cold air from air leaks around doors and windows is as significant a contributor to your heating bill as is poor insulation in the walls and ceiling. An easy way to reduce you heating bill is to reduce these drafts with simple weatherstripping.
Windows
On a day when it's windy outside, close your windows and feel for air leaks. You can use an incense stick for this too if you don't mind the smell. Watch the smoke trail and if it becomes anything other than vertical, you have an air leak. Typically air leaks will be at the edges where the window is hinged, slides or meets another unit, such as between the two panels of a double hung window.
Although you can tape plastic over the windows to seal them, this can be expensive and look bad. It can also reduce much needed light in the winter unless you use the shrink-wrap type of plastic seal. So a better and easier solution is to use inexpensive

rope caulk

.
Press the rope caulk into all the joints where air is leaking.
Doors
The easiest fix here is to check for weatherstripping on the side and bottoms of the doors. Install weatherstripping on any leaking doors.
Infiltration of cold air from air leaks around doors and windows is as significant a contributor to your heating bill as is poor insulation in the walls and ceiling. An easy way to reduce you heating bill is to reduce these drafts with simple weatherstripping.Windows

On a day when it's windy outside, close your windows and feel for air leaks. You can use an incense stick for this too if you don't mind the smell. Watch the smoke trail and if it becomes anything other than vertical, you have an air leak. Typically air leaks will be at the edges where the window is hinged, slides or meets another unit, such as between the two panels of a double hung window.
Although you can tape plastic over the windows to seal them, this can be expensive and look bad. It can also reduce much needed light in the winter unless you use the shrink-wrap type of plastic seal. So a better and easier solution is to use rope caulk.
Press the rope caulk into all the joints where air is leaking.

Doors

The easiest fix here is to check for weatherstripping on the side and bottoms of the doors. Install weatherstripping on any leaking doors.
Lastly, you'll want to prepare your yard for winter too. Let's take a look at what can be done for the grass, deck and outdoor amenities around the home.
Outdoor Landscape
Excellent information about getting your yard ready for winter can be found at your local Ace store.
Cover patio furniture.
If your deck needs it, consider giving it a fresh coat of sealer before winter.
Drain the gas from your lawn mower or just let the mower run until it is out of gas.
Drain any water fountains, unplug the pumps and prepare for winter.
Now if you use this handy checklist winter should not be a problem for you.
The weather is turning cooler, and it's time to starting preparing for winter weather. Here are some tips to help get your home ready for the cold:
Get inspected: If you plan to use a fireplace or wood stove for emergency heating, have your chimney or flue inspected each year. Ask your local fire department to recommend an inspector, or find one in your telephone directory under "chimney cleaning." Install a smoke detector and a battery-operated carbon monoxide detector near the area to be heated. Test them monthly, and replace batteries twice a year.
Protect your pipes: Insulate any water lines that run along exterior walls so your water supply will be less likely to freeze. Learn how to shut off water valves in case a pipe bursts.
Bring items indoors: If you have pets, bring them indoors. If you cannot bring them inside, provide adequate shelter to keep them warm and make sure that they have access to unfrozen water. Cover or bring indoors any plants that you want to protect from freezing temperatures.
Weatherize: Caulk and weather-strip doors and windows. Add insulation to your walls and attic, if necessary. Consider purchasing insulated doors and storm windows to further protect your home from the cold. This will also help lower your heating bill.
Buy supplies: In the event of a severe winter storm, you'll need to have supplies on hand, such as rock salt to melt ice on walkways, sand to improve traction and now shovels and other snow removal equipment. Prepare for possible isolation in your home by having sufficient heating fuel; regular fuel sources may be cut off. For example, store a good supply of dry, seasoned wood for your fireplace or wood-burning stove.
Remember fire safety: Keep fire extinguishers on hand, and make sure everyone in your house knows how to use them. House fires pose an additional risk, as more people turn to alternate heating sources without taking the necessary safety precautions. If you're going to use a space heater, make sure it has been tested according to the latest safety standards. Put it on a level, non-flammable surface away from bedding, drapes and furniture. And never leave a space heater on when you leave the house or when you go to sleep.
Watch your roof: Hire a contractor to check the structural ability of the roof to hold unusually heavy weight from the accumulation of snow or water
Skipping the Tape
Do you have the skills to get straight lines around the woodwork, windowsills and doorframes? Grab the painter's tape and get the nice, clean edges you want.
Painting Without Primer
Primer gives paint a good surface to adhere to and brings out the true color of the shade you've chosen. Going without it can lead to poor results.
Impatience
You took the time to fix every imperfection with patching compound. Wait. Make sure it's completely dry before you sand and prime. Otherwise, all that patching was a waste of time.
Paint Buildup on Pad Edge
When using edge pads around ceiling edges and corners, make sure to wipe off excess paint frequently to avoid marking the surface.
Brushing When You Should be Rolling
For a large interior area, a roller will do a better job in less time. Select the right nap roller for your sheen of paint and try to avoid pushing the roller into the wall when you paint.
Underestimating How Much Paint Needed
The pros say you need one gallon for every 400 square feet. Plan ahead and you can avoid running back and forth to the store with a paint swatch in your hand.
Assuming Walls are Clean
Paint looks much better when it has a good, clean surface to stick to. Wash your walls before painting and get professional results you can be proud of.
Painting When the Humidity is High
When the air is full of moisture, water-based paint takes longer to dry. If the weather winds up more humid than expected, take the day off and wait for a dry day.
Skipping the Surface Prep
Your new paint won't stick to glossy, dirty walls that are in bad condition. Take the time to prep, or you're bound to have problems down the road.
Paintbrush Abuse
When using latex paint, wet your brush bristles with water and shake the brush dry before you dip it in the paint. The brush will hold more paint and deliver better results.
Buying any Paintbrush
When you're choosing paintbrushes to use with latex-based paint, nylon/polyester blends produce the best results. Turns out polyester is good for something besides sport shirts.
Painting with Furniture in the Room
Getting paint off your furniture is a lot of work. If you can't move it out of the room, at least make sure it's completely covered with a drop cloth.
Failure to Protect the Floor
Paint has the amazing ability to go all the places you'd least expect it to. Before you pop the can open, make sure you have a drop cloth over everything and the edges are taped.
Polka-Dot Doorknobs
Unless you like the look of splattered paint, we recommend that you slip plastic bags over your doorknobs and tape the edge to avoid unsightly paint splatter.
Painting the Wall Plates
Want professional-looking results? Take five minutes to remove the wall plates and tape around your light switches and electrical outlets.
Primer comes before paint.
Tempted to skip the primer? Primer not only provides a good surface for the paint, but it also brings out the paint's true color.
Paint like a pro.
Painting is your chance to show off your skills. Use an edge pad for clean lines around doorframes, ceiling edges and corners so your walls look great — down to every last detail.
Create a sticky situation.
Paint won't stick to the wall if you haven't taken the time to prep. The surface must be clean, non-glossy and in good condition.
One gallon at a time.
How much paint will it take to cover your walls? The pros recommend one gallon for every 400 square feet. Covering textured, rough or unprimed surfaces may require more.
Dry days make good painting days.
Moisture in the air keeps water-based paint from drying. Skip the humid afternoon paint project and slow drying walls won't wreck the rest of your day.
Put your sandwich bags to work.
Slip a small plastic bag over your doorknobs and tape the edge to avoid getting paint in places it wasn't meant to go. You're so resourceful.
Out with the old.
If the old paint on your wall is flaking off, it's a good idea to buy a paint scraper and get it out of the way. Once all the old paint is gone, sand the surface smooth, prime and your new paint will look great.
Clean finish.
If you're looking for paint in high-traffic areas, semi-gloss is the way to go. Shiny and durable, semi-gloss is a parent's best friend.
Give the walls a sponge bath.
Washing your walls from top to bottom is always recommended because paint sticks better to a clean surface.
Don't look back.
Once an area starts to dry, it's best to leave it alone. Going back over it can leave marks and color streaks in the paint's surface.
Polka dots look good on fabric—not floors.
Unless you're trying to paint your floor, we recommend covering it up with a drop cloth. It's the cheap, easy way to save yourself a whole lot of irritation.
Take away the shine.
Paint doesn't always adhere to glossy surfaces. We recommend using a light grade sandpaper to take the gloss off the surface so your new paint sticks like it should.
Turn in the brush.
Small rooms can feel gigantic when it comes to painting. A roller will do a better job than a paint brush in less time.
Spare the wall plates.
Before you start, remove all wall plates and tape off light switches and electrical outlets. You'll get high marks for professional-looking results.
Patience is a virtue.
You've completed your mission to fix every imperfection with patching compound. Now, make sure it's dry. Then sand smooth, prime, and you'll have a surface good enough for any pro.
So, you've planted seeds or seedlings and then watered and weeded all summer. Now it's time to harvest, and while much of your garden's bounty ends up on your dinner plates, baked into goodies and eaten fresh as your pick it, there is generally an excess of fruits and vegetables. After all, you can only eat cucumbers at every meal for so many days in a row before you start to feel like you are, in fact, a cucumber.
This is where food preservation and canning comes in. Canning is a wonderful way to store your fruits and vegetables from the garden or the farmer's market while they are in season and make the harvest last through winter when local and seasonal foods are scarce.
Canning in both water baths and pressure cooking heats the food, killing any microorganisms that may grow, and also creates a vacuum seal in the jar. The vacuum seal will prevent any air from coming in contact with the preserved food that could encourage cell growth and cause the food to spoil.
1. Start by sterilizing your jars.
Wash your lids and jars in hot soapy water. Then move them to a boiling water bath for ten minutes to sterilize. Remove jars from the water bath, but leave the lids in the hot water until you're ready to use them to ensure they don't come in contact with anything before you seal your jars.
2. Fill your jars.
There are a few things to remember when filling your jars. First, be sure not to fill them completely. Produce expands during the boiling process, so leaving adequate space at the top prevents the jar from leaking and making a mess.

After filling your jar with produce, unless canning jams, jellies and preserves, you'll be pouring liquid to submerge the fruit or vegetables. Pour the boiling water, pickling solution or juice to cover up to the top of your produce.
Make sure there are no air bubbles along the sides of the jar and that the produce is submerged in the liquid. Wipe the rims of the jars down with a clean cloth and cap with the flat sealing lids and rims.
3. Process your jars.
Preheat water in your pot or pressure cooker. For hot produce, water should be preheated to 180º F, and for cold produce, it should be around 140º F. This will help prevent the jars from cracking when they are placed in the pot.
Water should be an inch or two above the top of the canning jar when they are placed in the pot for a water boiling process. Use a pressure canner according to the manufacturer's directions to determine the amount of water needed in the bottom prior to adding the jars.
Add the jars using your tongs or jar lifter, and place them in the vessel so they are not touching. Place the lid on your pot or pressure canner. With water bath canning, bring the water to a slow boil and then start your timer to process for the length of time dictated by which vegetable you're canning and the altitude at which you live. For pressure cooking, you'll want to check for the length and temperature needed for your region as well.
4.  Remove your jars and let them cool.
Place your jars on a flat wood or cloth-covered solid surface to let them cool. Let them sit for a day to completely cool. While cooling, your jars will start to pop, creating the vacuum seal.
After they have cooled, press down on the center of your jars to ensure they have sealed completely. Any lids that spring back have not sealed and can be placed in the refrigerator and eaten first.
5.  Label and store your preserved food.
Label your jars with the contents and the date. You can write directly on the lid with a Sharpie or download and print or purchase specialty labels for your jars.
Once you have them labeled and have wiped off any food pieces or water from the outside of the jar, store your food in a dark, dry place until you're ready to enjoy.
 
These plumbing tips will help you keep your pipes and home plumbing faucets and fixtures in good working order.
Turn Valves On and Off
Turn main water supply and fixture valves on and off periodically to make sure they don't get stuck. You want to be sure you're never in the position of not being able to turn your water supply off during an emergency or home plumbing repair.
Repair Leaking Faucets
Leaking faucets are not only a nuisance, they can also cause gallons of water to be wasted over time. Leaking faucets with washer fittings can be fixed by replacing the washer. Faucets without washers may require that you consult an installation manual or a specialist at a home plumbing store.
Inspect Your Septic Tank Periodically
This plumbing tip requires that you check your septic tank every three to five years to determine the level of scum and solids on the surface of the tank. The tank should be cleaned if the level of scum exceeds one half of the depth of the water in the tank.
Inspect Pipes Annually
You should examine your distribution and drainage pipes for signs of leaks each year. You may find clues that your pipes are leaking along the length of the pipe or around fittings or fixtures. Signs of leaks may include rust, corrosion, and mineral deposits.
You'll also want to check the insulation of your hot water pipes periodically and replace any open or damaged areas of insulation. Another plumbing tip includes replacing aerators on faucets several times each year.
These plumbing tips will put you on your way to maintaining your home's plumbing for years to come.
Environmentalists have been admonishing us for years to conserve fuel to lessen our impact on the planet. Some of us have taken heed by walking, biking, carpooling, combining trips, or trading in our SUVs for hybrids. While you probably appreciate these efforts, frankly, the majority of us didn't change. That was until gas prices hit an all-time high last year. As a result, people actually modified their behaviors to conserve gas. The fact that it was a boon to the environment wasn't the catalyst, although the effect was the same. Put simply, sometimes it takes a hit to the wallet to rustle up real change.
Now that the entire economy is in a slump, people are responding by tightening up and reducing consumption in general—not just at the pump. The cost of everything seems to be higher these days, especially at the grocery store, a trip you can't skip. Maybe you can skip it, or at least drastically slash your bill, by growing your own food.
Growing fruits and vegetables seems overwhelming to most people, but it's actually much simpler than it sounds. (Plus you don't have to trade in your suburban or urban lifestyle for a life in the sticks in the name of self-sufficiency or savings.) All you need is a few square feet of the great outdoors, a water source, and a little time. Your grandparents did it, and so can you.
If you still aren't convinced, consider these benefits of backyard gardening:
Improve your family's health. Eating more fresh fruits and vegetables is one of the most important things you and your family can do to stay healthy. When they're growing in your backyard, you won't be able to resist them, and their vitamin content will be at their highest levels as you bite into them straight from the garden. Parents, take note: A study published in the Journal of the American Dietetic Association found that preschool children who were almost always served homegrown produce were more than twice as likely to

eat

five servings of fruits and vegetables a day—and to like them more—than kids who rarely or never ate homegrown produce.
Save money on groceries. Your grocery bill will shrink as you begin to stock your pantry with fresh produce from your backyard. A packet of seeds can cost less than a dollar, and if you buy heirloom, non-hybrid species, you can save the seeds from the best producers, dry them, and use them next year. If you learn to dry, can, or otherwise preserve your summer or fall harvest, you'll be able to feed yourself even when the growing season is over.
Reduce your environmental impact. Backyard gardening helps the planet in many ways. If you grow your food organically, without pesticides and herbicides, you'll spare the earth the burden of unnecessary air and water pollution, for example. You'll also reduce the use of fossil fuels and the resulting pollution that comes from the transport of fresh produce from all over the world (in planes and refrigerated trucks) to your supermarket.
Get outdoor exercise. Planting, weeding, watering, and harvesting add purposeful physical activity to your day. If you have kids, they can join in, too. Be sure to lift heavy objects properly, and to stretch your tight muscles before and after strenuous activity. Gardening is also a way to relax, de-stress, center your mind, and get fresh air and sunshine.
Enjoy better-tasting food. Fresh food is the best food! How long has the food on your supermarket shelf been there? How long did it travel from the farm to your table? Comparing the flavor of a homegrown tomato with the taste of a store-bought one is like comparing apples to wallpaper paste. If it tastes better, you'll be more likely to eat the healthy, fresh produce that you know your body needs.
Build a sense of pride. Watching a seed blossom under your care to become food on your and your family's plates is gratifying. Growing your own food is one of the most purposeful and important things a human can do—it's work that directly helps you thrive, nourish your family, and maintain your health. Caring for your

plants

and waiting as they blossom and "fruit" before your eyes is an amazing sense of accomplishment!
Stop worrying about food safety. With recalls on peanut butter, spinach, tomatoes and more, many people are concerned about food safety in our global food marketplace. When you responsibly grow your own food, you don't have to worry about contamination that may occur at the farm, manufacturing plant, or transportation process. This means that when the whole world is avoiding tomatoes, for example, you don't have to go without—you can trust that your food is safe and healthy to eat.
Reduce

food

waste. Americans throw away about $600 worth of food each year! It's a lot easier to toss a moldy orange that you paid $0.50 for than a perfect red pepper that you patiently watched ripen over the course of several weeks. When it's "yours," you will be less likely to take it for granted and more likely to eat it (or preserve it) before it goes to waste.
Even if you don't have big backyard—or any yard for that matter—you can still grow food. Consider container gardening if you have a sunny balcony or patio or an indoor herb garden on a windowsill. You'll be amazed at how many tomatoes or peppers can grow out of one pot. Or find out if your city has a community garden, where you can tend to your very own plot. Check out www.CommunityGarden.org to locate a community garden near you.
If you need more inspiration, read Barbara Kingsolver's book, Animal, Vegetable, Miracle, which chronicles her family's yearlong commitment to feeding themselves. In beautiful prose, she describes how they grew or raised close to everything they ate, and by the end of the year, they didn't want to quit!
Whatever your motivation for breaking ground on your own backyard garden, chances are good that you'll take pleasure in this new healthy hobby, and that your wallet, the environment, your body, and your taste buds will thank you! Bj
I took a 5-by-20-foot section of garden bed by my tiny lawn to see how much I could grow in just that 100 square feet. I wanted to produce a lot of food, and because it was part of my edible landscape, it had to look good, too.
The Plants
I wanted to make this garden simple — something anyone in the United States could grow. I didn't include fancy vegetable varieties; I chose those available at my local nursery as transplants. I also selected vegetables that are expensive to buy at the supermarket, as well as varieties that my experience has told me produce high yields.
The first season (spring/summer 2008), I grew the following:
Two tomato plants: 'Better Boy' and 'Early Girl'
Bell peppers, which are often luxuries at the market when fully colored: two 'California Wonder,' two 'Golden Bell,' one 'Orange Bell,' and one 'Big Red Beauty'
Four zucchinis: two green 'Raven' and two 'Golden Dawn'
Four basils (expensive in stores but essential in the kitchen)
18 lettuces: six 'Crisp Mint' romaine, six 'Winter Density' romaine, and six 'Sylvestra' butterhead
The only plants I grew from seed were the zucchinis. Hindsight is always 20/20; I should have thinned each of the zucchini hills to a single seedling, but I left two in each hill. As a result, I needed to come up with creative uses for zucchini, including giving them away as party favors at a dinner I hosted.
It looked a bit barren at first, but the garden flourished — especially the lettuces. Within several weeks, I started picking outer leaves for salads for neighbors and myself. The weather forecast predicted temperatures in the upper 90s. I was heading out of town and feared the lettuces would bolt, so I harvested the entire heads earlier than I normally would. Within about a month of transplanting the lettuces into the garden, I had grown enough for 230 individual servings of salad. And by that time, the tomatoes, zucchinis and pepper plants had nearly filled in the bed.
A Living Spreadsheet
Although I've grown hundreds of varieties of vegetables over the years and kept rough notes, this garden was different.
We created spreadsheets for each type of plant, and we kept meticulous records each time we harvested. We recorded the amount — pounds and ounces, as well as number of fruits (for each cultivar of tomato, zucchini and peppers) or handfuls (for lettuces and basil).
The Investment: Time and Money
This 100-square-foot plot took about eight hours to prepare, including digging the area, amending the soil, raking it smooth, placing stepping stones, digging the planting holes, adding organic fertilizer, and setting the plants and seeds in the ground. On planting day, I installed homemade tomato cages (store-bought ones are never tall or sturdy enough) and drip irrigation. And I mulched well — a thick mulch is key to cutting down on weeding, which is the biggest time waste in the garden, in my opinion.
We hand-watered the bed for a few weeks to allow the root systems to grow wide enough to reach the drip system. Three times over the first month we routed out a few weeds, which was only necessary until the plants filled in and shaded the soil.
Tomatoes in my arid climate are susceptible to bronze mites that cut down on the harvest and flavor. To prevent mites, we sprayed sulfur in mid-July and again in mid-August, which took about 30 minutes each time. In rainy climates, gardeners often need to prevent early blight on tomatoes. To do so, rotate tomato plants to a different area of the garden each year and mulch well. After the plants are a few feet tall, remove the lower 18 inches of leafy stems to create good air circulation.
For the rest of the season, we tied the tomatoes and peppers to the stakes as they grew upward, cut off the most rampant branches, and harvested the fruits. The time commitment averaged about an hour and a half each week. (Our harvesting was more time-consuming than average because we counted, weighed and recorded everything we picked.)
To determine what my harvest would cost in the market, I began checking out equivalent organic produce prices in midsummer. On a single day in late August, I harvested 49 tomatoes, nine peppers, 15 zucchinis of many sizes, and three handfuls of basil — which would have totaled $136 at my market that day.
From April to September, this little organic garden produced 77.5 pounds of tomatoes, 15.5 pounds of bell peppers, 14.3 pounds of lettuce, and 2.5 pounds of basil — plus a whopping 126 pounds of zucchini! Next time I won't feel bad about pulling out those extra plants.
I figured the total value of my 2008 summer trial garden harvest was $746.52. In order to get a fair picture, I also needed to subtract the cost of seeds, plants and compost (I can't make enough to keep up with my garden), which added up to $63.09. That leaves $683.43 in savings on fresh vegetables. Of course, prices vary throughout the season and throughout the country. 
Choose indeterminate tomatoes. They keep growing and producing fruit until a killing frost. (Determinate varieties save space but ripen all at once.)
 In spring, plant cool-season vegetables, including lettuce, mesclun and stir-fry green mixes, arugula, scallions, spinach and radishes. They are ready to harvest in a short time, and they act as space holders until the warm-season veggies fill in.
 Grow up. Peas, small melons, squash, cucumbers and pole beans have a small footprint when grown vertically. Plus, they yield more over a longer time than bush types.
 Plants such as broccoli, eggplant, peppers, chard and kale are worth the space they take for a long season. As long as you keep harvesting, they will keep producing until frost