Posts Tagged 'pruning trees'
By pruning your fruit trees, you stimulate shoot growth, control the size and shape of the tree, and improve the quality of the fruit.
If you have not pruned before, don't worry! It is not difficult, and you'll get a real feel for how to prune fruit trees the more you work at it. And it's worth every minute!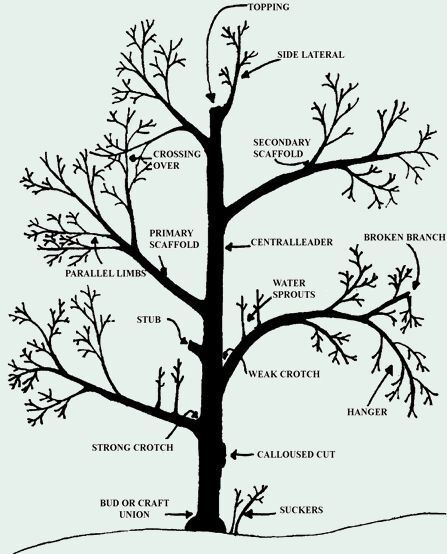 You'll want to follow a few specific fruit tree pruning instructions for different types of fruit trees. For instance, apple trees need a different pruning system than peach trees. Here are the basics:
The Central-Leader System:

This is used for pruning apple trees, pear trees, and sweet cherry trees. A "central leader" is the main stem or trunk of the tree from which other lateral branches develop.

Fruit tree pruning instructions for this method are based around thinning the lateral branches.

The Open-Center System:

Used for peach tree pruning, as well as pruning plum trees, nectarine trees, apricot trees and sour cherry trees where there is no dominant, vertical trunk (central leader).

Open center fruit tree pruning instructions are based around three or four main limbs set at wide angles with about five lesser branches on each.

The Modified-Leader System:

Mostly used for nut bearing trees, this can also be applied when pruning apple trees and pear trees. Modified-leader fruit tree pruning instructions are based upon giving the central leader and three or four lateral branches equal importance.
With this in mind, here are basic fruit tree pruning instructions that will get you off to a good start to getting the balance you want of shoot growth and fruit production:
General Fruit Tree Pruning Instructions
Always use sharp shears or saws so your cuts are clean. Use pruning shears on young trees and limbs less than 1/2 inch diameter, and lopping shears for your bigger cuts. For mature fruit trees, use a pruning saw.

Begin by removing dead wood and broken branches. Then cut out any wood that crosses or rubs against any other branches. This opens up the middle so the sun can get to all the fruit.

Make your cut close to a bud, to a joint in the branch, or to the trunk; never leave a stub. The pruning cut should be just above a bud. Make the cut at a backwards angle of about 30 degrees.

Prune stems just above a pair of opposing strong shoots or buds. If shoots or buds are staggered, choose a strong one and prune just above it.

Keep more horizontal branches, and prune more vertical branches.

Remove suckers (shoots) from around the base of the tree.

Get rid of all debris which can harbor pests and disease.
Trees can be badly damaged during severe winter storms. Trees are biologically engineered to adjust to most of the things that "Mother Nature" dishes up. Sometimes, however, trees are not able to compensate for catastrophic events, and a failure occurs. By identifying problems and dealing with them before winter storms occur, some emergencies can be avoided.
Trees in the street area: If your tree is located within a street right of way, it is regulated by the City. Trees that have been planted by the City (typically those along arterial streets) are maintained by the City. Trees that have been planted by abutting property owners are the maintenance responsibility of the current abutting property owner.
Trees on private property: Large trees are an extremely valuable asset to both the individual property owner and the community. An investment in pruning or inspection can help prevent damage from wind, snow or ice, and help preserve those irreplaceable older trees that add so much to the character and heritage of your property.
Preventative Maintenance:  strategic pruning to prevent branch failure is a good idea for both the trees and the people who live around them. We know first hand that the time invested in preventative maintenance is well spent. Trees that are pruned regularly should be more resistant to storm damage as a result of the removal of structurally weak branches, decreased surface area of lateral branches and decreased wind resistance.
Trees that have their canopies covered with ivy or clematis may not be able to withstand the additional wind or snow load caused by the extra leaf area of the vines. Removal of invasive vines is important to the health of your trees.
Trees that have structural defects may incur storm damage from snow, ice or wind. Some defects to look for are:
Dead Wood – dead trees and large dead branches are unpredictable. Dead wood is brittle, and cannot bend in the wind like a living tree or branch. Branches that are already broken off and hanging in the tree should receive prompt attention.
Cracks – A crack is a deep split in the tree, which extends through the bark and into the wood of the tree. Cracks are indicators of potential branch or tree failure.
Decay – a "hollow" tree can be prone to failure, but presence of decay does not necessarily indicate that the tree is hazardous. Trees usually decay from the inside, forming a cavity. At the same time, new wood is added to the outside of the tree as it grows. If the outer shell is sound, the tree may be relatively safe. Evaluating the safety of a decaying tree is best left to a trained arborist.
Root Problems – Trees with damaged roots may blow over in wind storms. Have your tree checked if over half of the roots have been crushed or cut; if the tree is starting to lean and soil is "pushing up" around the base of the tree on the side opposite the lean; or, if decay is present in the buttress roots or base of the tree.
Poor Tree Composition – An example of this would be a tree with a weak branch attachment, a large branch that is out of proportion with the rest of the tree, or a tree that leans excessively. Not all leaning trees are hazardous, but if you're concerned about the tree, it should be examined by a professional arborist. Weak branch attachments (typically, these are narrow "forks" in the tree) are also best evaluated by a professional arborist.
Prune your trees to remove dead or weakened limbs, starting when they are young. DON'T TOP TREES! Larger trees can benefit from having excess branches thinned from their crowns, which lets wind pass through. You should be able to see into your tree, but not through it!
Keep your trees healthy by caring for them all year long. Proper watering, mulching, fertilizing and pruning will help them be an asset to your property and the community for years to come.
Plant the right tree: When you are planting new trees, select the right tree for your location. To avoid damage from early snow and ice storms, don't choose trees that retain their leaves late into the fall. Don't plant too close to your house, and avoid species that are susceptible to breaking, such as Willows, Box Elders, Poplars, Bradford Pear and Silver Maples.