What is a Three Sisters Garden?
It is an ancient method of gardening using an intercropping system which grows corn, beans, and squash crops simultaneously in the same growing area that is typically a rounded mound of soil, often called a hill.
Corn is the oldest sister. She stands tall in the center.
Squash is the next sister. She grows over the mound, protecting her sisters from weeds and shades the soil from the sun with her leaves, keeping it cool and moist.
Beans are the third sister. She climbs through squash and then up corn to bind all together as she reaches for the sun. Beans help keep the soil fertile by coverting the sun's energy into nitrogen filled nodules that grow on its roots. As beans grow they use the stored nitrogen as food
.
How do I grow a Three Sisters Garden?
In mid-Spring clear a sunny garden area of grasses, weeds, and large stones. The area should be roundish in shape and at least eight feet across. Cover the area with a few inches of compost or well rotted manure. Turn the compost in to loosen the ground and create a moisture retaining growing medium with increased fertility. Water it well. Check the growing area frequently over the next few weeks to remove any sprouted weeds.
In late-Spring sow about seven or eight corn seeds in the center of the growing circle, in a ring pattern, spaced out about six inches from each other. Plant the corn seeds an inch under the soil, firm the soil above by patting it down with the palm of your hand. Water the growing mound well. The corn will sprout and begin to grow in about two weeks.
After the corn has grown to about ten inches high, using a hoe or hand trowel, pull up some soil from the growing mound around the base of the corn stalks. The corn should not be buried entirely, it's upper half should be above the soil that has been mounded around it's stems. The corn will send roots into the mounded soil to hold it steady and upright in the wind.
After mounding soil around the base of the corn stalks sow about a dozen pole bean seeds in a ring pattern six inches outside the corn stalks. Push the bean seeds about an inch under the soil and firm the ground above them by patting it down with your hand. Water the growing mound well. The beans will usually begin to sprout in about 7-14 days.
About a week after the beans sprout, sow six or seven squash seeds in a ring about 12-15″ outside the beans. Push the squash seeds about an inch under the soil and firm the ground above them by patting it down with your hand. The squash seeds will sprout in about a week.
As the corn grows the beans will begin to climb, you can help them early on by wrapping the bean vines around the corn stalks. The squash will begin to grow it's vines and the large squash leaves will soon cover the growing mound and shade its soil. On occasion help the squash continue to cover the mound by turning the ends of it's vines towards the center of the mound. Water the mound well during weeks where there has been little or no rain.
When can we harvest our Three Sister's Garden?
Corn may be harvested while in it's green corn stage, but tradtionally it is left to ripen and is harvested in Autumn. The cob is sun dried and stored for winter use. To harvest green corn observe the silky threads coming from the tops of the ears, when the silk is dry and a dark brown color the corn may be harvested. To remove an ear of corn, hold the stalk a few inches below the ear. Pull the tip of the ear toward the ground until it snaps off.
Beans may be eaten fresh or allowed to mature and dry on the vine. Fresh beans can be harvested when the pods are firm and crisp, but before the seeds within the pods have begun to swell. Pick beans in late morning after the night-dew has dried from the plants. This helps to prevent the spread of bacterias which can harm the plants. Pick the beans carefully to avoid bruising or snapping the growing vines. Bean plants will continue to flower and more bean pods will develop if they are harvested before bean seeds can mature.
Squash should be picked only after its skin has hardened thoroughly. Be careful to not damage or break off the stem of the squash…this can wound the squash and it will begin to rot. Cut the stem 3-4″ from the fruit with a sharp knife. Allow the squash to sit in the sun for a few days to cure and the stem to dry. Store squash in a single layer and not touching each other, which can foster rot. Squash can last at least two months, depending on the variety.
Enjoy growing your Three Sisters Garden!
First the bad news: if you neglect spring lawn care (and related concerns pertaining to your mower), you could end up paying for it the rest of the year. Now the good news: spring lawn care doesn't entail nearly the amount of work that you'll have to invest in mowing alone throughout the summer months.
In fact, most of you will need to implement only about half of the following ten tips for spring lawn care, depending upon your own unique circumstances. Furthermore, I point out in a few instances below that the task in question is better performed as part of your fall lawn care, if you can wait that long.
Spring Lawn Care Tip #1: Raking
Raking will be your first task of spring lawn care. Okay, I can hear the groans coming from all lands near and far, wherever grassy carpets are cultivated: "But we already raked leaves in the fall!" Sorry, but raking is for more than just removing leaves: it's for controlling thatch, too. A thatch build-up of more than 1/2 inch is considered excessive.
Thatch is the reason why I recommend that, when you rake leaves in the fall, you make the effort to rake deeply. Don't just skim the surface, so as to remove the leaves. A deep raking will remove thatch, too, allowing you to kill two birds with one stone. Even if you followed this advice in fall, I still recommend a spring raking: it will remove grass blades that died over the winter — dead blades that are just waiting to become thatch!
But there's often another good reason for a spring raking. As you survey your lawn in spring, see if there are any matted patches, in which the grass blades are all stuck together. This can be caused by a disease known as "snow mold." New grass may have difficulty penetrating these matted patches. But a light raking will be sufficient to solve this problem.
Just when you should perform any of these spring lawn care tasks will depend upon the climate of your own region. But Mother Nature provides palpable cues in some cases. For instance, when you're pretty sure the snow season (if you have one) is over in your region, begin raking. Applying preemergent herbicides (see Tip #6) should be done sometime between the time the local forsythia bushes stop blooming and the time the local lilac bushes begin blooming.
Spring Lawn Care Tip #2: Check for Compaction
If your lawn is subjected to high levels of traffic year after year, it may eventually start to show signs of decline. In such cases, your lawn is probably suffering from compaction. For instance, the presence of moss plants signals compaction (among other things).
Lawn aeration is the remedy for compaction. The good news is that lawn aerators can be rented at your local rental center. The bad news is that the experts recommend postponing lawn aeration until fall. But if, during your "spring lawn checkup," you become aware of compaction, at least you can plan on setting aside some time in the fall to take care of it.
Spring Lawn Care Tip #3: Liming
Besides compaction, the presence of moss plants also signals acidity. But grass likes a neutral soil pH. You can solve this problem by liming your soil. But don't expect a quick fix: the effects of liming are slow to take place.
But first send a soil sample to your local county extension to determine the extent of your soil's acidity. The county extension will also be able to advise you on how much lime per square foot you'll need. Apply the lime using a lawn spreader.
But if your lawn has been doing fine and shows no signs of suffering from acidity, don't apply lime. Liming is only a corrective measure, not a preventive measure. A soil that is too alkaline will also cause your lawn problems, so too much lime is as bad as not enough.
Spring Lawn Care Tip #4: Overseeding
Is your lawn riddled with bare patches due to dog spots, heavy traffic or neglect? If so, you may need to apply grass seed to fill in those bare patches. This solution is known as "overseeding lawns." Apply a slow-release nitrogen fertilizer when you overseed. Five weeks after the grass germinates, apply a quick-release nitrogen fertilizer.
However, spring isn't the very best time for overseeding lawns. Fall is the preferred time, when the new grass won't have to compete with crabgrass (see Page 2), which is killed off by autumn frosts. So postpone overseeding until fall, unless your situation is dire.
Spring Lawn Care Tip #5: Fertilizing
Lawns can be fertilized organically by using compost and mulching mowers. But for those who prefer chemical fertilizers, Scotts provides a lawn fertilizing schedule. Many experts, however, recommend a lighter feeding in spring and a heavier one in late fall for cool-season grasses. Too much fertilizer in spring can lead to disease and weed problems. And if you have, indeed, already fertilized in late fall, your lawn is still "digesting" that fertilizer in spring.
In addition to the above tasks of spring lawn care, don't forget weed control and making sure your mower is ready for the mowing season.
For those who prefer weed-free lawns, spring grass care is as much about weed prevention as it is about fostering healthy lawn growth. Novices to spring grass care are often surprised to learn that not all lawn weeds are battled in the same manner. Depending upon whether a weed is an annual or a perennial, you will use a preemergent herbicide or a postemergent herbicide against it.
Spring Grass Care Tip #6: Applying Preemergent Herbicides
If you know that you have a problem with the annual weed, crabgrass, then fertilization in spring should go hand in hand with the application of preemergent herbicides. As their name suggests, preemergent herbicides address weed control not "after the fact," but before their seedlings can even emerge. Preemergent herbicides accomplish this by forming something of a "shield" that inhibits seed germination. Don't undertake the core aeration task discussed on Page 1 after applying preemergent herbicides: to do so would be to "puncture" this shield, thereby decreasing its effectiveness.
Crabgrass begins its assault on lawns in spring, when its seeds germinate. In fact, my suggestion on Page 1 that overseeding be carried out in autumn, rather than spring, is based in part on the threat posed by a spring crabgrass invasion. "So why not just begin by killing the crabgrass first with a preemergent herbicide?" perhaps you ask. Well, the trouble is that most preemergent herbicides work against not only weed seeds, but grass seeds, as well!
You can appreciate the dilemma here. Overseeding is incompatible with the application of most preemergent herbicides. Yet, faced with competition from crabgrass in spring, you may find it difficult to establish your new grass. So while it's still possible to overseed in spring, it's simply easier to do so in fall. There will be no competition from crabgrass then, because the fall frosts kill off crabgrass.
If you must overseed in the spring, look for a product called, "Tupersan." Unlike other preemergent herbicides, Tupersan will not damage germinating lawn grass seed. But if you're committed to staying away from chemicals altogether in your spring grass care, postpone overseeding till fall.
Spring Grass Care Tip #7: Applying Postemergent Herbicides — Or Pulling Weeds
Keep an eye out for the emergence of the perennial weed, dandelion during the spring season, unless you find the presence of their cheerful yellow flowers in your lawn desirable. At the very least, you'll want to snap off their flower stems before they produce seed. If you're more ambitious, you can dig them out by the roots. Spraying dandelion weeds with postemergent herbicides is more effective in fall than in spring. If you do choose to spray, select an herbicide for broadleaf weeds.
If you prefer weed control without chemicals and have consistently practiced organic landscaping, you can harvest these "weeds" as dandelion greens and eat them!
No other power equipment is as intimately associated with and essential to landscaping as is the lawn mower. You need to have a lawn mower that will consistently get the job done without any hassles throughout the lawn mowing season. And you should also know how to use the lawn mower to your best advantage. Consequently, the final three of my ten tips focus on caring for, selecting and using lawn mowers.
Tip #8: Tuning Up Existing Lawn Mowers
Mowing the lawn all summer can be tiring enough, right? Why make it more difficult on yourself by putting up with a lawn mower that doesn't start up immediately? When a lawn mower is stubborn about starting up, that can be a sign that it needs a tuneup. Although it's often possible to get by without one, it is recommended that you have a lawn mower tuneup each year. Don't put it off till summer or pay someone else to do it. Learn how to tune up a lawn mower yourself using the following resource and have your machine ready to go for summer:
Tip #9: Buying a New Lawn Mower
Or perhaps you're fed up with your old lawn mower? Time for a change? This Q&A resource for consumers will help you decide on which type of lawn mower is best for you:
Tip #10: Reviewing Lawn Mowing Strategies
"What's there to know about lawn mowing?" perhaps you ask. "You just push the lawn mower and it cuts the grass, right?" At the most basic level, Yes. And if lawn mowing is merely a mindless chore that you perform to satisfy other people (and you really don't care much about the health of your lawn), then you needn't know any more about it.
However, if you do care about the health of your lawn, there's a bit more to lawn mowing than just keeping your grass short enough to prevent the neighborhood from thinking your house has been abandonned! Spring is a good time to learn (or review) lawn mowing strategies — before it becomes so hot outside that it's hard to think!
Question: Is there a right and a wrong method of lawn mowing?
Answer: Yes. Alternate the direction in which you mow each lawn mowing session. You will thereby prevent your grass from "getting into a rut" (literally). If your lawn mower wheels pass over the same area in the same direction each time you mow, they'll form ruts over time. Switching lawn mowing patterns also wisely avoids having the lawn mower blade beating at the grass in the same direction at every mowing.
By pruning your fruit trees, you stimulate shoot growth, control the size and shape of the tree, and improve the quality of the fruit.
If you have not pruned before, don't worry! It is not difficult, and you'll get a real feel for how to prune fruit trees the more you work at it. And it's worth every minute!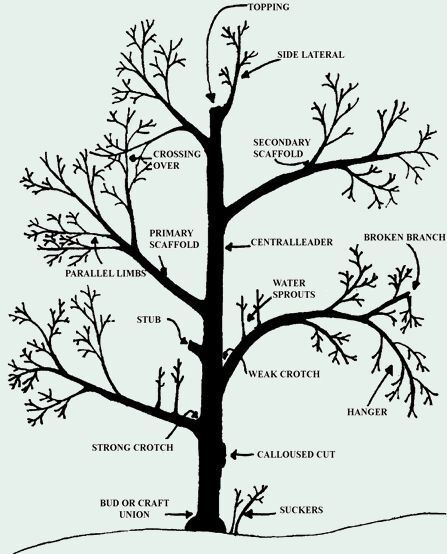 You'll want to follow a few specific fruit tree pruning instructions for different types of fruit trees. For instance, apple trees need a different pruning system than peach trees. Here are the basics:
The Central-Leader System:

This is used for pruning apple trees, pear trees, and sweet cherry trees. A "central leader" is the main stem or trunk of the tree from which other lateral branches develop.

Fruit tree pruning instructions for this method are based around thinning the lateral branches.

The Open-Center System:

Used for peach tree pruning, as well as pruning plum trees, nectarine trees, apricot trees and sour cherry trees where there is no dominant, vertical trunk (central leader).

Open center fruit tree pruning instructions are based around three or four main limbs set at wide angles with about five lesser branches on each.

The Modified-Leader System:

Mostly used for nut bearing trees, this can also be applied when pruning apple trees and pear trees. Modified-leader fruit tree pruning instructions are based upon giving the central leader and three or four lateral branches equal importance.
With this in mind, here are basic fruit tree pruning instructions that will get you off to a good start to getting the balance you want of shoot growth and fruit production:
General Fruit Tree Pruning Instructions
Always use sharp shears or saws so your cuts are clean. Use pruning shears on young trees and limbs less than 1/2 inch diameter, and lopping shears for your bigger cuts. For mature fruit trees, use a pruning saw.

Begin by removing dead wood and broken branches. Then cut out any wood that crosses or rubs against any other branches. This opens up the middle so the sun can get to all the fruit.

Make your cut close to a bud, to a joint in the branch, or to the trunk; never leave a stub. The pruning cut should be just above a bud. Make the cut at a backwards angle of about 30 degrees.

Prune stems just above a pair of opposing strong shoots or buds. If shoots or buds are staggered, choose a strong one and prune just above it.

Keep more horizontal branches, and prune more vertical branches.

Remove suckers (shoots) from around the base of the tree.

Get rid of all debris which can harbor pests and disease.
Take advantage of the moderate temperatures to get a head start on what should be an annual spring home maintenance routine. EXTERIOR INSPECTION "It's good to do a walk-around of your property, especially after a storm," says Curtis S. Niles, Sr., owner of Armored Home Inspections, Upper Darby, PA, and president of the National Association of Home Inspectors (NAHI). "Winter is tough on roofs and chimneys." It can also take its toll on windows, walls, foundations, gutters and decks. Roof. You don't need to climb up there yourself; with binoculars and a keen eye, you can probably spot trouble. Do you see any shingle-shift, suggesting that some fasteners may have failed and need replacing? Any cracked or missing shingles? What about nail-pops? "We call them eyebrows," Niles explains. "It's when nails push the tabs of the shingles up, allowing water to get in where those nails are coming through." All will need to be addressed to keep your roof at peak performance. Chimneys. If you have a masonry chimney, check the joints between bricks or stones. Have any fallen out? Is there vegetation growing out of them? Each signals water infiltration. Also, look for efflorescence—"a white calcium-like deposit that indicates your masonry joints are no longer repelling water but absorbing it," says Niles. Consider re-sealing masonry with a clear, impermeable or water-resistant barrier material (like Thoroseal products). Brush it on, small areas at a time; let it absorb for 15 minutes, then reapply—it may need a couple of applications. Exterior Walls. Whether you have wood siding, stucco or brick, look for trouble spots, especially under eaves and near gutter downspouts. Water stains normally indicate that your gutters are not adequately containing roof runoff. If you have wood siding, check for openings, damaged areas or knots that have popped out, making way for carpenter ants, woodpeckers and other critters that may nest in or burrow through. Foundations. When inspecting the exterior of your home, be sure to examine the foundation from top to bottom for masonry cracks. "Routine caulking by homeowners won't do the job," says Niles. "Hire a foundation specialist who can employ a two-part epoxy injection system that will bond cracks chemically," he adds. Windows. Leakage around windows will admit warm summer air and let cooled indoor air escape, so be sure to check that any caulking and weather stripping you have in place has remained intact. "A tight seal is the first line of defense against air and water," says Marty Davis, marketing manager, Simonton Windows, Columbus, OH. If you experienced condensation inside the glass on double- or triple-glazed windows during the winter months, the weather seal has been compromised, and either the glass or the window will need to be replaced. Spring-clean your windows—inside and out—with a store-bought or homemade window cleaner (one cup rubbing alcohol, one cup water and a tablespoon of white wine vinegar will work just fine) and either a squeegee or a soft cloth. Never use abrasive cleaners or a high-pressure spray washer. You don't want to scratch the glass or crack the caulking around each unit. If screens were on all winter, remove and clean them with mild detergent. Lay them on a dry surface, like a driveway to air-dry before putting them back on. "Never power-wash screens," urges Davis, "it could damage the mesh."
General Cleaning. Spring is a good time to clean areas of the house that often go neglected. Dust or vacuum chair rails, window casings, tops of wall-mounted cabinets and ceiling fans. Launder or dry-clean fabric draperies and use a damp cloth to clean wood and vinyl blinds. Vacuum upholstered furniture and mattresses and consider renting a carpet cleaner—anything you can do to remove settled dust, mites, and allergens will make for a cleaner, and healthier, home.
If you detect grease residue in the kitchen, consider washing cabinets, backsplashes and walls with warm water and mild detergent. The same is true in the bathroom, where soap residue and fluctuations in heat and humidity combine to create the perfect breeding ground for mold and mildew. While you're cleaning tile, look for areas of worn or missing grout, as these may lead to more serious water damage if not repaired.
Air Conditioning. Just as you readied your furnace for fall, now is the time to make sure that air conditioning units are in good working order for the warmer months ahead. Change the filter, check hose connections for leaks, and make sure the drain pans are draining freely. In addition, vacuum any dust that has settled on the unit and connections; over time it can impact the air conditioner's effectiveness. If you suspected problems with the efficiency or performance of the unit last summer, now is the time to call in a professional to check it out.
Attics. Search for signs that indicate insects and critters have colonized. Also, search aggressively for mold, which often takes the form of "gray or black blotches that look like staining," according to Tim Gentry, vice president of technical services, DaVinci Roofscapes, Kansas City, KS. Proper insulation and good ventilation will deter mold growth in the attic, so take action now to prevent the problem from developing in the warmer months ahead.
Basements. The basement—prone to dampness and insects—must be part of any thorough seasonal maintenance effort. Dampness suggests higher than normal relative humidity, inadequate ventilation and the need for a dehumidifier. Check the base of poured-concrete walls. "Cracks start from the bottom up, not the top down," Niles points out. "If there's water penetration, it'll show at the bottom of those cracks." And be sure to use a flashlight to examine exposed framing. "If you see even a quarter-inch or so of tunneling on the wood," says Niles, "call a pest control company immediately."
Leaks. Spring is a good time to check for leaky faucets, clogged drains and sweaty pipes. Check under the kitchen and bathroom sink to make sure connections on pipes and hoses are properly sealed, and look for any wetness around the dishwasher that could signal an existing or potential problem. The same is true of your laundry room; check washer machine hoses for cracks, bulges or dampness. The same is true for hot water heaters, which may show sign of corrosion and leaks.
Lawns. Rake the lawn to remove any branches, debris and leaves that you might have missed in the fall; if left, they can suffocate the grass beneath. During the winter, soil compaction, along with chemical changes altering your soil's PH, may have left your lawn vulnerable to weed growth and other issues. Even if you can't see weeds, they are more than likely waiting for optimum conditions to propagate. If you want to prevent them from germinating, consider an organic herbicide; fertilizers are better suited to the fall.
Make sure outdoor water systems—pipes, faucets, and in-ground sprinkler systems—are in working order. Once the ground thaws completely, start preparing new garden beds for summer plants. And take stock of your garden tools and lawn-maintenance equipment, including lawn mowers, trimmers and hoses.
Decks and Patios. Look for warped, loose or splintered boards, and do a good sweep to remove any leaves and debris accumulated in the space between boards. "Whether it's wood, plastic or composite, a deck should be cleaned every year to extend its life," says Chuck Harris, owner, Custom Lumber Manufacturing Co., Dothan, AL. If the finish on your wood deck is faded or worn, now is the time to clean, stain, and reseal it. If you have composite decking, follow manufacturers' recommendations on seasonal care. The same is true for wood and composite fences, pergolas, trellises and other structures. If you have a stone patio, a simple hose down provide be all the maintenance required (unless you detect moss or staining, in which case a more serious cleaning may be necessary).
Outdoor Furniture. If you stored your lawn furniture for the winter, bring it outdoors and give it a hose rinse, or wash it with a mild detergent. For metal furniture, check for signs of rust or paint erosion; a simple remedy of spray enamel will prevent further damage from sun, rain and humidity in the months ahead.
Grills. If your gas grill has remained idle over the winter months, check burner jets for clogs and obstructions, and be sure that gas hoses and connections are sound and secure. You'll also want to check for propane. For charcoal grill owners, make certain your grill is clean of ash and free of grease residue. It's a good habit to adopt throughout the grilling season, not just in the spring.
In the fall is when you want to get ready for the winter cold. The worst thing in the world is trying to put your storm windows in when its 20 degrees outside. Or worse, not having your sprinkler system purged before the freezing weather comes. I'm going to give you a fairly easy checklist of things to do for the various systems of your home. From plumbing to roof, we'll walk through each system and hit the major things to make sure you do before winter so you can enjoy the snow and not worry about your home.
OK, lets start with the basics of making sure you have heat when you need it. The time to check that is in the Fall, no later than the end of October. Give your system a test run through and make sure all systems are "GO".
Heating System Checklist
Test Run:
Turn the thermostat to heat mode and set it to 80 degrees just for testing. You should hear the furnace turn on and warm air should blow within a few minutes. If it's running OK, turn the thermostat back to its normal setting. If it's not running properly, you can try to diagnose it. Depending on what's wrong, you can fix it yourself or you may need a qualified service technician.
Seasonal Maintenance:
Either have the furnace checked by a service technician or do it yourself.
Replace the Air Filter:
Put in a new clean air filter.
Fuel:
If you have a propane or oil furnace, make sure to have your fuel storage tank topped off and ready to go.
Heating Vents:
Clear obstacles to heating vents so air can freely flow.
Check for Carbon Monoxide Leaks:
This silent killer can easily be detected with either an inexpensive test badge or battery operated alarm. Whichever way you decide, just please decide to protect your family with one of these units.
Although not thought about much in warm weather, the wood burning fireplace and chimney can be a major source of cold air leaks and other issues in winter. So the chimney and fireplace need a little going over before winter sets in.
Chimney and Fireplace

Check that the chimney is clear of any nests from birds, squirrels or other animals.
Check flue damper operation. Make sure it opens and closes fully, and that it is able to be locked in the open or closed position.
Check chimney draft. Make sure the chimney will draw up the fire and smoke properly. Test this by taking several sheets of newspaper and rolling them up. Then with the fireplace damper in the open position, light the newspaper in the fireplace. The smoke should rise up the chimney. If it doesn't, you have an obstruction and need to call a professional in to clean the chimney of creosote and ash and possible debris.
If it has been several years (or never!) since you had your fireplace chimney cleaned, you should have it done by a professional chimney sweep. Definitely not a fun DIY project.
Inspect the fire brick in the fireplace. If you see any open mortar joints have them repaired immediately! A fire can spread into the stud wall behind the masonry fire brick through open mortar joints.

Plumbing is especially susceptible to cold weather and freezing. Burst pipes from freezing can cause some of the most expensive repairs in the home. So let's go over some of the basics to make you have them covered.

Insulate Exposed Piping
If you have any exposed water or drain piping at all in uninsulated spaces such as in a crawlspace, attic, outside walls, etc., make sure to insulate them with foam insulation at a minimum. Ideally you should wrap them with electrical heating tape first, then insulate them.
Pipe Wrap and Insulating Tape 
Exterior Faucets
Known as hose bibbs or sill-cocks, the exterior faucet needs to have its water supply turned off inside the house, and you also need to drain water from it by opening up the exterior faucet. You may also want to consider an insulated cover for the hose bibb. And remember to disconnect your garden hoses from the sill cocks or outside faucets and drain them if you store them outside.

Seasonal Shut Down
If you are shutting down a property for several months you should always shut off the water supply and drain the plumbing system. If a leak were to occur without occupancy, the damage could be catastrophic.
Infiltration of cold air from air leaks around doors and windows is as significant a contributor to your heating bill as is poor insulation in the walls and ceiling. An easy way to reduce you heating bill is to reduce these drafts with simple weatherstripping.
Windows
On a day when it's windy outside, close your windows and feel for air leaks. You can use an incense stick for this too if you don't mind the smell. Watch the smoke trail and if it becomes anything other than vertical, you have an air leak. Typically air leaks will be at the edges where the window is hinged, slides or meets another unit, such as between the two panels of a double hung window.
Although you can tape plastic over the windows to seal them, this can be expensive and look bad. It can also reduce much needed light in the winter unless you use the shrink-wrap type of plastic seal. So a better and easier solution is to use inexpensive

rope caulk

.
Press the rope caulk into all the joints where air is leaking.
Doors
The easiest fix here is to check for weatherstripping on the side and bottoms of the doors. Install weatherstripping on any leaking doors.
Infiltration of cold air from air leaks around doors and windows is as significant a contributor to your heating bill as is poor insulation in the walls and ceiling. An easy way to reduce you heating bill is to reduce these drafts with simple weatherstripping.Windows

On a day when it's windy outside, close your windows and feel for air leaks. You can use an incense stick for this too if you don't mind the smell. Watch the smoke trail and if it becomes anything other than vertical, you have an air leak. Typically air leaks will be at the edges where the window is hinged, slides or meets another unit, such as between the two panels of a double hung window.
Although you can tape plastic over the windows to seal them, this can be expensive and look bad. It can also reduce much needed light in the winter unless you use the shrink-wrap type of plastic seal. So a better and easier solution is to use rope caulk.
Press the rope caulk into all the joints where air is leaking.

Doors

The easiest fix here is to check for weatherstripping on the side and bottoms of the doors. Install weatherstripping on any leaking doors.
Lastly, you'll want to prepare your yard for winter too. Let's take a look at what can be done for the grass, deck and outdoor amenities around the home.
Outdoor Landscape
Excellent information about getting your yard ready for winter can be found at your local Ace store.
Cover patio furniture.
If your deck needs it, consider giving it a fresh coat of sealer before winter.
Drain the gas from your lawn mower or just let the mower run until it is out of gas.
Drain any water fountains, unplug the pumps and prepare for winter.
Now if you use this handy checklist winter should not be a problem for you.
Last winter was the fourth warmest for the contiguous 48 since record keeping began in 1895, with 24 states experiencing below-normal precipitation. In fact, California experienced its second driest winter ever. In only 10 states—chiefly across the nation's midsection— was winter precipitation above normal.
The situation became critical this past spring and summer with broiling hot temperatures across much of the country and the most severe drought conditions the nation has seen in more than 50 years.
For the coming season, we're predicting that winter will return to some – but not all – areas. We think it will be a "winter of contraries, as if Old Man Winter were cutting the country in half. The eastern half of the country will see plenty of cold and snow. The western half will experience relatively warm and dry condition. In other words, as in the political arena, the climate this winter will render us a nation divided.
We predict that real winter weather will return to areas from the Great Lakes into the Northeast. Most eastern states – as far south as the Gulf Coast – will see snowier than normal conditions and cooler temperatures.
We are "red flagging" February 12–15 and March 20–23 for major coastal storms along the Atlantic seaboard; storms bringing strong winds and heavy precipitation.
But on the other side of the country, winter will continue its hiatus for another year. The forecast for west of the Continental Divide – the Pacific Northwest, desert Southwest, Pacific Coast – calls for mild temperatures and below-normal precipitation.
1 Add a second layer of insulation to your attic. R-30 insulation is considered the minimum. If your house is relatively new, it probably conforms. If not, consider adding insulation.
2 Caulk around window and door glass and trim, and all exterior trim. Install or replace weather stripping on all doors and windows. Check for cracks around pipes and electrical outlets entering or exiting the walls.
3 Install storm windows and doors if you have them. Consider purchasing storm windows if you have older windows that are not made from modern insulated glass.
4 Have your heating system checked by a licensed heating/air-conditioning professional. Most furnace manufacturers recommend at least annual inspections.
5 Check gutters and clean them if necessary. Clogged gutters can result in basement flooding when the snow melts (see 'eHow to Clean Gutters').
6 Replace any roof shingles that are missing or damaged (see 'eHow to Replace Asphalt Shingles').
7 Have your chimneys inspected by a chimney service and, if necessary, cleaned (see 'eHow to Clean Out a Fireplace and Chimney').
8 Check the foundation for areas where water may puddle.
9 Trim trees away from the house. Have dead trees and branches removed by professional tree trimmers, or do it yourself.
10 Drain and shut off outdoor water faucets.
11 Insulate any water pipes that are exposed to freezing cold.
12 Replace the batteries in carbon monoxide and smoke detectors, and check to make sure these are all in working order.
13 Check fire extinguishers and charge and replace as necessary.
14 Make sure you are stocked with rock salt, sand, snow shovels and any other items you will need during the winter.
Skipping the Tape
Do you have the skills to get straight lines around the woodwork, windowsills and doorframes? Grab the painter's tape and get the nice, clean edges you want.
Painting Without Primer
Primer gives paint a good surface to adhere to and brings out the true color of the shade you've chosen. Going without it can lead to poor results.
Impatience
You took the time to fix every imperfection with patching compound. Wait. Make sure it's completely dry before you sand and prime. Otherwise, all that patching was a waste of time.
Paint Buildup on Pad Edge
When using edge pads around ceiling edges and corners, make sure to wipe off excess paint frequently to avoid marking the surface.
Brushing When You Should be Rolling
For a large interior area, a roller will do a better job in less time. Select the right nap roller for your sheen of paint and try to avoid pushing the roller into the wall when you paint.
Underestimating How Much Paint Needed
The pros say you need one gallon for every 400 square feet. Plan ahead and you can avoid running back and forth to the store with a paint swatch in your hand.
Assuming Walls are Clean
Paint looks much better when it has a good, clean surface to stick to. Wash your walls before painting and get professional results you can be proud of.
Painting When the Humidity is High
When the air is full of moisture, water-based paint takes longer to dry. If the weather winds up more humid than expected, take the day off and wait for a dry day.
Skipping the Surface Prep
Your new paint won't stick to glossy, dirty walls that are in bad condition. Take the time to prep, or you're bound to have problems down the road.
Paintbrush Abuse
When using latex paint, wet your brush bristles with water and shake the brush dry before you dip it in the paint. The brush will hold more paint and deliver better results.
Buying any Paintbrush
When you're choosing paintbrushes to use with latex-based paint, nylon/polyester blends produce the best results. Turns out polyester is good for something besides sport shirts.
Painting with Furniture in the Room
Getting paint off your furniture is a lot of work. If you can't move it out of the room, at least make sure it's completely covered with a drop cloth.
Failure to Protect the Floor
Paint has the amazing ability to go all the places you'd least expect it to. Before you pop the can open, make sure you have a drop cloth over everything and the edges are taped.
Polka-Dot Doorknobs
Unless you like the look of splattered paint, we recommend that you slip plastic bags over your doorknobs and tape the edge to avoid unsightly paint splatter.
Painting the Wall Plates
Want professional-looking results? Take five minutes to remove the wall plates and tape around your light switches and electrical outlets.
Primer comes before paint.
Tempted to skip the primer? Primer not only provides a good surface for the paint, but it also brings out the paint's true color.
Paint like a pro.
Painting is your chance to show off your skills. Use an edge pad for clean lines around doorframes, ceiling edges and corners so your walls look great — down to every last detail.
Create a sticky situation.
Paint won't stick to the wall if you haven't taken the time to prep. The surface must be clean, non-glossy and in good condition.
One gallon at a time.
How much paint will it take to cover your walls? The pros recommend one gallon for every 400 square feet. Covering textured, rough or unprimed surfaces may require more.
Dry days make good painting days.
Moisture in the air keeps water-based paint from drying. Skip the humid afternoon paint project and slow drying walls won't wreck the rest of your day.
Put your sandwich bags to work.
Slip a small plastic bag over your doorknobs and tape the edge to avoid getting paint in places it wasn't meant to go. You're so resourceful.
Out with the old.
If the old paint on your wall is flaking off, it's a good idea to buy a paint scraper and get it out of the way. Once all the old paint is gone, sand the surface smooth, prime and your new paint will look great.
Clean finish.
If you're looking for paint in high-traffic areas, semi-gloss is the way to go. Shiny and durable, semi-gloss is a parent's best friend.
Give the walls a sponge bath.
Washing your walls from top to bottom is always recommended because paint sticks better to a clean surface.
Don't look back.
Once an area starts to dry, it's best to leave it alone. Going back over it can leave marks and color streaks in the paint's surface.
Polka dots look good on fabric—not floors.
Unless you're trying to paint your floor, we recommend covering it up with a drop cloth. It's the cheap, easy way to save yourself a whole lot of irritation.
Take away the shine.
Paint doesn't always adhere to glossy surfaces. We recommend using a light grade sandpaper to take the gloss off the surface so your new paint sticks like it should.
Turn in the brush.
Small rooms can feel gigantic when it comes to painting. A roller will do a better job than a paint brush in less time.
Spare the wall plates.
Before you start, remove all wall plates and tape off light switches and electrical outlets. You'll get high marks for professional-looking results.
Patience is a virtue.
You've completed your mission to fix every imperfection with patching compound. Now, make sure it's dry. Then sand smooth, prime, and you'll have a surface good enough for any pro.
Your results  
Each winter, on average, your risk of frost is from September 18 through May 19.Almost certainly,however, you will receive frost from October 3 through May 3.

You are almost guaranteed that you will not get frost from June 4 through September 3.

Your frost-free growing season is around 122 days.