Posts Tagged 'growing vegetables'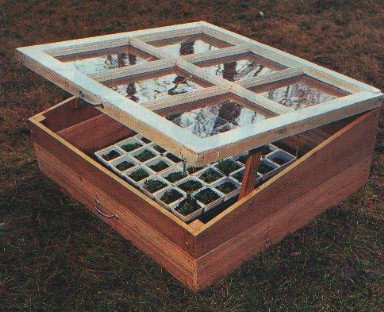 A cold frame is a simple structure placed in the garden that features structural sides (usually made of wood) and a top made of a transparent material such as clear plastic or glass. Starting seeds in a cold frame eliminates several of the difficulties of starting seeds indoors. However, it requires a small investment of time and money in the construction of the cold frame and careful attention on cold nights. Here's a brief run down of what you need to know for successful cold-frame seed-starting.
WARMTH. From early March on, cold frames warm up significantly almost every day. When unvented, the interior temperature can easily top 90 degrees on a sunny day. The soil in seedling trays or soil blocks absorbs much of the solar radiation and heat, and the soil easily reaches temperatures that initiate seed germination. However, on cold nights the cold frame provides only 10-15 degrees of protection (depending on wind and the previous day's high), so providing a bit of heat to stave off frost overnight is sometimes necessary. Sometimes throwing some old wool or polyester blankets on top can be enough; sometimes running a light bulb or Christmas lights within the box can do it. Generally some extra heat is wise if the outside temperature is predicted to drop below about 26 degrees and the frame contains frost-sensitive seedlings such as tomatoes, peppers, eggplants, basil, and certain flowers. (A cold frame with only brassicas and lettuces and greens will need no additional heat.) On sunny or warm days, venting is necessary–anything from cracking the lid to removing it entirely. Keep a thermometer handy: experiment a bit and you'll get the hang of it.
MOISTURE. Seeds sown in a cold frame can be watered with abandon–no mess to worry about. Do monitor the seedlings at the end of the afternoon, as solar heat and breezes from venting can cause rapid moisture loss on a warm or sunny days.
LIGHT. When you use a cold frame, the  mighty sun takes care of your light requirements: no supplementation is necessary. Just be sure to place the cold frame in a spot that gets full sun exposure. (Keep in mind that leafless trees will fill out and shade the cold frame before tender seedlings can be put in the garden.)
HARDENING OFF. Seedlings grown from the start in a cold frame require almost no hardening off, as they are exposed to temperature swings and breezes from a young age. Maybe give them one or two days of resting in a semi-protected spot outside of the cold frame before putting them in the ground; other than that, you're golden!
Summary: Cold frames provide an ideal environment for seed-starting. Gardeners are assured ample natural light and need not bother with much hardening off before transplanting. Cold nights are an issue: gardeners must monitor for sub-26 temps and provide additional insulation or supplemental heat on those nights if frost-tender crops are in the cold frame.
What is a Three Sisters Garden?
It is an ancient method of gardening using an intercropping system which grows corn, beans, and squash crops simultaneously in the same growing area that is typically a rounded mound of soil, often called a hill.
Corn is the oldest sister. She stands tall in the center.
Squash is the next sister. She grows over the mound, protecting her sisters from weeds and shades the soil from the sun with her leaves, keeping it cool and moist.
Beans are the third sister. She climbs through squash and then up corn to bind all together as she reaches for the sun. Beans help keep the soil fertile by coverting the sun's energy into nitrogen filled nodules that grow on its roots. As beans grow they use the stored nitrogen as food
.
How do I grow a Three Sisters Garden?
In mid-Spring clear a sunny garden area of grasses, weeds, and large stones. The area should be roundish in shape and at least eight feet across. Cover the area with a few inches of compost or well rotted manure. Turn the compost in to loosen the ground and create a moisture retaining growing medium with increased fertility. Water it well. Check the growing area frequently over the next few weeks to remove any sprouted weeds.
In late-Spring sow about seven or eight corn seeds in the center of the growing circle, in a ring pattern, spaced out about six inches from each other. Plant the corn seeds an inch under the soil, firm the soil above by patting it down with the palm of your hand. Water the growing mound well. The corn will sprout and begin to grow in about two weeks.
After the corn has grown to about ten inches high, using a hoe or hand trowel, pull up some soil from the growing mound around the base of the corn stalks. The corn should not be buried entirely, it's upper half should be above the soil that has been mounded around it's stems. The corn will send roots into the mounded soil to hold it steady and upright in the wind.
After mounding soil around the base of the corn stalks sow about a dozen pole bean seeds in a ring pattern six inches outside the corn stalks. Push the bean seeds about an inch under the soil and firm the ground above them by patting it down with your hand. Water the growing mound well. The beans will usually begin to sprout in about 7-14 days.
About a week after the beans sprout, sow six or seven squash seeds in a ring about 12-15″ outside the beans. Push the squash seeds about an inch under the soil and firm the ground above them by patting it down with your hand. The squash seeds will sprout in about a week.
As the corn grows the beans will begin to climb, you can help them early on by wrapping the bean vines around the corn stalks. The squash will begin to grow it's vines and the large squash leaves will soon cover the growing mound and shade its soil. On occasion help the squash continue to cover the mound by turning the ends of it's vines towards the center of the mound. Water the mound well during weeks where there has been little or no rain.
When can we harvest our Three Sister's Garden?
Corn may be harvested while in it's green corn stage, but tradtionally it is left to ripen and is harvested in Autumn. The cob is sun dried and stored for winter use. To harvest green corn observe the silky threads coming from the tops of the ears, when the silk is dry and a dark brown color the corn may be harvested. To remove an ear of corn, hold the stalk a few inches below the ear. Pull the tip of the ear toward the ground until it snaps off.
Beans may be eaten fresh or allowed to mature and dry on the vine. Fresh beans can be harvested when the pods are firm and crisp, but before the seeds within the pods have begun to swell. Pick beans in late morning after the night-dew has dried from the plants. This helps to prevent the spread of bacterias which can harm the plants. Pick the beans carefully to avoid bruising or snapping the growing vines. Bean plants will continue to flower and more bean pods will develop if they are harvested before bean seeds can mature.
Squash should be picked only after its skin has hardened thoroughly. Be careful to not damage or break off the stem of the squash…this can wound the squash and it will begin to rot. Cut the stem 3-4″ from the fruit with a sharp knife. Allow the squash to sit in the sun for a few days to cure and the stem to dry. Store squash in a single layer and not touching each other, which can foster rot. Squash can last at least two months, depending on the variety.
Enjoy growing your Three Sisters Garden!
Keep the birds at bay with this jangly kitchen-gadget scarecrow.
What you'll need
One 7-foot-long 2- by 3-inch wooden stud
Two ¾-inch wooden dowels
4 large brass hooks
Twine
2 metal spatulas
4 sets of metal measuring spoons
2 metal saucepans
Metal coffeepot
Metal colander
Wire
Old pair of jeans, shirt, and suspenders
Bandana
How to make it
First, set one end of the wooden stud 18 inches into the ground. Next, cut the two dowels to measure 3 feet long and 1 foot long, respectively. Screw the brass hooks into the ends of both dowels.
With twine, securely tie the longer dowel to the stud 10 inches from the top. Hang the spatula 'forearms' from the hooks and use safety pins to attach metal measuring spoon 'fingers' to the spatulas.
Tie on the shorter dowel 18 inches below the top one. Then loop leg-length pieces of twine around the hooks on the short dowel.
Now dress the scarecrow in jeans, using suspenders to hang them from the 'shoulder' dowel. Thread the twine through the legs and tie saucepan 'boots' to the ends. Button on a flappy shirt.
For a head, fit an inverted metal coffeepot atop the stud. You can even drill holes in its side and screw on metal washers for eyes. Tie a bandanna around the 'neck.'
Cap it all off by using wire to firmly fasten a metal colander hat to the coffeepot handle and then attach measuring spoons for hair.
A bean teepee creates a wonderful hiding hole for young kids during the summer months at the same time as providing a perfect support for growing pole beans!
You can locate your bean teepee either in the vegetable patch or in a spare corner of the garden – it adds the dimension of height and is not only useful and fun, but quite ornamental too. Just bear in mind that the teepee will cast a fair bit of shade once the beans have grown.
How to Make a Bean Teepee
You will need: 7 – 9 long bamboo poles, some twine, string or even masking tape, and runner or pole beans.
Start off by finding a suitable spot in your garden and dig the earth over in a circular shape. A circle with a diameter of 3-4 foot is usually perfectly adequate.Beans like well-drained soil, so add some compost and fertiliser if needed – like in this example!
Firmly push the ends of the bamboo poles into the ground by about 3 inches on the outside of the circle.Leave a gap between two of the poles to act as the entrance to the bean teepee.
Tie the bamboo poles together firmly near the top using twine, string, a bit of old rope or even masking tape.There is absolutely no fine art in tieing the poles together – the main and only aim is to ensure they are all VERY firmly held in place, as no matter how careful kids are, they are likely to knock the poles when going in and out of the teepee!
Plant the runner or pole beans about 2 inches deep. Plant them on the inside of the teepee rather than the outside, as this makes it easier to hoe and keep weeds down – anything growing on the outside of the bamboo poles are weeds!It is usual to plant two beans per pole. That should ensure at least one healthy plant per pole.
Water generously.Beans usually take between 7 to 14 days to germinate. Once the seedlings appear, protect them from slug attacks.

When the beans are a few inches high, loosely tie them to the poles. From then on, they should find their own way up.

When the plants reach the top of the teepee after about 7-8 weeks, nip the growing ends off. Keep them well watered during a dry patch, especially once the pods have started forming.
Once the dense foliage of the runner or pole beans has climbed up the bamboo poles and provides a cover, your bean teepee is ready for it's inhabitants. Pop a blanket inside for the perfect private hide-away!
Tips
Once the first bean pods are ready to be harvested, keep picking them every few days to ensure the plants keep flowering and producing more pods. Once a pod reaches full maturity, the flowering process is shut down.
Beans can be planted outside once the risk of frost is over, usually late May or the beginning of June in the more northern areas.
For an even more colourful display, interplant climbing flowering plants too, such as climbing nasturtiums or black-eyed Susan.
Cats love these shady hide-aways too!
Step 1: Build the Frames
Build the top and bottom frames out of the 1×2 cedar strips. You'll be butting the ends together, so no mitering will be necessary. Fasten two 26″ strips to two 13″ strips to form each rectangular frame. (You'll need to ensure that the length remains 26″; to do this, butt the ends of the shorter strip against the longer strips. The thickness of the two longer strips will add an inch to each end of the shorter strips, increasing their length to 16″. Do this at each end of the longer strips to form a rectangular frame 26″ long and 16″ wide.) Apply a bead of wood glue to the junctions of the strips; then nail together with a single nail in each junction in preparation for inserting screws to hold them more securely. Predrill the ends prior to screwing them together; this helps keep the ends from splitting. Then insert a screw in each corner.
Step 2: Attach the Side Panels
Stand the two frames on their sides and apply a bead of wood glue to the inside face of the bottom side frames (the long sides). Attach four side panels to each long side, smooth sides out, and nail from the inside to hold them in place. Make sure the frames are flush with the panel ends on at least one side, or the bottom panels won't fit properly. If the panels are jagged on the other side, you can always smooth them with a trim saw later.
Because you're nailing from the inside, you may have to drive the nails at a slight angle. The advantage of this is that it conceals the nailheads from the exterior face of the window box. Repeat on the other side of the box.
Step 3: Attach the End Panels
Stand the half-completed box on its end and apply a bead of wood glue to the inside face of the bottom end frames. Attach two panels to each end in the same manner that you used to attach the side panels, once again ensuring that the ends are flush on the bottom. Repeat the process on the opposite end.
Step 4: Attach the Bottom Panels
Check and adjust your box for square if necessary. Attach three bottom panels to form the base of the planter box, using wood glue and screws. The base will reinforce and brace the box. Drill several holes in the panels so that water can escape, or simply leave a gap between the panels.
Step 5: Finish the Box
Lightly sand any rough edges and corners to smooth out splinters. If you wish, you can stain, seal or prime and paint your planter to suit your home's decor. Because you used cedar, however, it can stay unfinished: cedar is one of the best lumbers you can use for exterior applications. This planter is a good size for potted plants, but you may wish to add a plastic liner and fill it with soil (add a layer of gravel first). If you do, don't forget to cut holes in the liner to line up with the drainage holes in the bottom of the planter.
Take advantage of the moderate temperatures to get a head start on what should be an annual spring home maintenance routine. EXTERIOR INSPECTION "It's good to do a walk-around of your property, especially after a storm," says Curtis S. Niles, Sr., owner of Armored Home Inspections, Upper Darby, PA, and president of the National Association of Home Inspectors (NAHI). "Winter is tough on roofs and chimneys." It can also take its toll on windows, walls, foundations, gutters and decks. Roof. You don't need to climb up there yourself; with binoculars and a keen eye, you can probably spot trouble. Do you see any shingle-shift, suggesting that some fasteners may have failed and need replacing? Any cracked or missing shingles? What about nail-pops? "We call them eyebrows," Niles explains. "It's when nails push the tabs of the shingles up, allowing water to get in where those nails are coming through." All will need to be addressed to keep your roof at peak performance. Chimneys. If you have a masonry chimney, check the joints between bricks or stones. Have any fallen out? Is there vegetation growing out of them? Each signals water infiltration. Also, look for efflorescence—"a white calcium-like deposit that indicates your masonry joints are no longer repelling water but absorbing it," says Niles. Consider re-sealing masonry with a clear, impermeable or water-resistant barrier material (like Thoroseal products). Brush it on, small areas at a time; let it absorb for 15 minutes, then reapply—it may need a couple of applications. Exterior Walls. Whether you have wood siding, stucco or brick, look for trouble spots, especially under eaves and near gutter downspouts. Water stains normally indicate that your gutters are not adequately containing roof runoff. If you have wood siding, check for openings, damaged areas or knots that have popped out, making way for carpenter ants, woodpeckers and other critters that may nest in or burrow through. Foundations. When inspecting the exterior of your home, be sure to examine the foundation from top to bottom for masonry cracks. "Routine caulking by homeowners won't do the job," says Niles. "Hire a foundation specialist who can employ a two-part epoxy injection system that will bond cracks chemically," he adds. Windows. Leakage around windows will admit warm summer air and let cooled indoor air escape, so be sure to check that any caulking and weather stripping you have in place has remained intact. "A tight seal is the first line of defense against air and water," says Marty Davis, marketing manager, Simonton Windows, Columbus, OH. If you experienced condensation inside the glass on double- or triple-glazed windows during the winter months, the weather seal has been compromised, and either the glass or the window will need to be replaced. Spring-clean your windows—inside and out—with a store-bought or homemade window cleaner (one cup rubbing alcohol, one cup water and a tablespoon of white wine vinegar will work just fine) and either a squeegee or a soft cloth. Never use abrasive cleaners or a high-pressure spray washer. You don't want to scratch the glass or crack the caulking around each unit. If screens were on all winter, remove and clean them with mild detergent. Lay them on a dry surface, like a driveway to air-dry before putting them back on. "Never power-wash screens," urges Davis, "it could damage the mesh."
General Cleaning. Spring is a good time to clean areas of the house that often go neglected. Dust or vacuum chair rails, window casings, tops of wall-mounted cabinets and ceiling fans. Launder or dry-clean fabric draperies and use a damp cloth to clean wood and vinyl blinds. Vacuum upholstered furniture and mattresses and consider renting a carpet cleaner—anything you can do to remove settled dust, mites, and allergens will make for a cleaner, and healthier, home.
If you detect grease residue in the kitchen, consider washing cabinets, backsplashes and walls with warm water and mild detergent. The same is true in the bathroom, where soap residue and fluctuations in heat and humidity combine to create the perfect breeding ground for mold and mildew. While you're cleaning tile, look for areas of worn or missing grout, as these may lead to more serious water damage if not repaired.
Air Conditioning. Just as you readied your furnace for fall, now is the time to make sure that air conditioning units are in good working order for the warmer months ahead. Change the filter, check hose connections for leaks, and make sure the drain pans are draining freely. In addition, vacuum any dust that has settled on the unit and connections; over time it can impact the air conditioner's effectiveness. If you suspected problems with the efficiency or performance of the unit last summer, now is the time to call in a professional to check it out.
Attics. Search for signs that indicate insects and critters have colonized. Also, search aggressively for mold, which often takes the form of "gray or black blotches that look like staining," according to Tim Gentry, vice president of technical services, DaVinci Roofscapes, Kansas City, KS. Proper insulation and good ventilation will deter mold growth in the attic, so take action now to prevent the problem from developing in the warmer months ahead.
Basements. The basement—prone to dampness and insects—must be part of any thorough seasonal maintenance effort. Dampness suggests higher than normal relative humidity, inadequate ventilation and the need for a dehumidifier. Check the base of poured-concrete walls. "Cracks start from the bottom up, not the top down," Niles points out. "If there's water penetration, it'll show at the bottom of those cracks." And be sure to use a flashlight to examine exposed framing. "If you see even a quarter-inch or so of tunneling on the wood," says Niles, "call a pest control company immediately."
Leaks. Spring is a good time to check for leaky faucets, clogged drains and sweaty pipes. Check under the kitchen and bathroom sink to make sure connections on pipes and hoses are properly sealed, and look for any wetness around the dishwasher that could signal an existing or potential problem. The same is true of your laundry room; check washer machine hoses for cracks, bulges or dampness. The same is true for hot water heaters, which may show sign of corrosion and leaks.
Lawns. Rake the lawn to remove any branches, debris and leaves that you might have missed in the fall; if left, they can suffocate the grass beneath. During the winter, soil compaction, along with chemical changes altering your soil's PH, may have left your lawn vulnerable to weed growth and other issues. Even if you can't see weeds, they are more than likely waiting for optimum conditions to propagate. If you want to prevent them from germinating, consider an organic herbicide; fertilizers are better suited to the fall.
Make sure outdoor water systems—pipes, faucets, and in-ground sprinkler systems—are in working order. Once the ground thaws completely, start preparing new garden beds for summer plants. And take stock of your garden tools and lawn-maintenance equipment, including lawn mowers, trimmers and hoses.
Decks and Patios. Look for warped, loose or splintered boards, and do a good sweep to remove any leaves and debris accumulated in the space between boards. "Whether it's wood, plastic or composite, a deck should be cleaned every year to extend its life," says Chuck Harris, owner, Custom Lumber Manufacturing Co., Dothan, AL. If the finish on your wood deck is faded or worn, now is the time to clean, stain, and reseal it. If you have composite decking, follow manufacturers' recommendations on seasonal care. The same is true for wood and composite fences, pergolas, trellises and other structures. If you have a stone patio, a simple hose down provide be all the maintenance required (unless you detect moss or staining, in which case a more serious cleaning may be necessary).
Outdoor Furniture. If you stored your lawn furniture for the winter, bring it outdoors and give it a hose rinse, or wash it with a mild detergent. For metal furniture, check for signs of rust or paint erosion; a simple remedy of spray enamel will prevent further damage from sun, rain and humidity in the months ahead.
Grills. If your gas grill has remained idle over the winter months, check burner jets for clogs and obstructions, and be sure that gas hoses and connections are sound and secure. You'll also want to check for propane. For charcoal grill owners, make certain your grill is clean of ash and free of grease residue. It's a good habit to adopt throughout the grilling season, not just in the spring.
1
Start any gardening project in spring, when air temperatures rise to 60 degrees F. Vertical garden vegetables don't need warm soil, but do require frost-free nights.

2

Choose your wall for the garden. Put the vertical garden in a spot that gets full sunshine all day, with good air circulation and protection from any drying winds.

Use deep, sturdy rain gutters for the vertical garden, to give vegetables room for growth and support. Cut the rain gutters to fit on the wall you choose, and build at least three to four "stories" of gardening space. Drill holes every 10 inches in the bottom of the gutters, to ensure drainage.

4

Secure the gutters to the wall with eye hooks, screws or nails every 6 inches. Leave 2 to 3 feet of space between each layer of gutters to give the plants room to grow.

5

Mix organic compost, peat moss and potting soil in equal parts as your planting mix. This mix gives the vegetables plenty of nutrition and drainage. Fill the gutters full of your mixture, then turn starter fertilizer such as 6-24-24 or 8-32-16 into the top 4 inches of soil to provide more nutrition.

6

Plant small, compact vegetables in a vertical garden to minimize space usage and avoid stressing the structure. Plant lettuce, cabbage, spinach, broccoli, herbs, beets, peas, carrots, garlic, onions and radishes. Choose only small tomato, cucumber, bean and pepper cultivars. Also plant flowers in with vegetables to make the garden more attractive.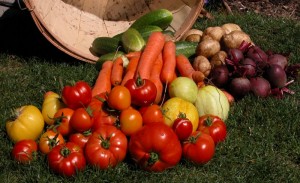 Allow plenty of time. You'll need time to pick as well as to put food in the fridge or prepare it for dinner.
Be strategic. Pick either the ingredients for tonight's meal or a large single harvest for preserving. Then you won't be faced with two jobs after you've brought the produce inside. Helpful tools include durable scissors, a small serrated knife and a basket with a handle.
Keep it cool. Produce wilts quickly after it is picked, so harvest during the cool part of the day – early morning or late evening. Set up a processing bench outside to sort and clean vegetables. Keep produce fresh by propping cut stems in water.
Get ready. What will you do with produce after it lands in your kitchen? Harvest smaller amounts, more frequently, so everything fits in the fridge and can be eaten at the peak of freshness. Have a supply of plastic bags for storing leafy greens, cucumbers, beans, peas, and anything that wilts quickly after picking.
Stagger your plantings. If you are inundated by too much lettuce or summer squash, it may be an indication that you've planted more than your family can consume. Plant just a few seeds every three or four weeks in succession so that the greens never stop coming and you can keep up!
Extend the harvest. City farmers preserve bumper crops by dehydrating, freezing, pickling, and canning. Not all methods work well for all produce so match the preservation technique to the food. Learn about various food preservation techniques by taking a class.
Give it away. Many people in our community have little or no access to fresh produce. They would love extras from your garden. Area food banks will gladly accept donations of fresh, high quality produce. Check with your local food bank about particulars.
Use these guidelines to tell when to harvest your garden vegetables.  Common garden vegetables (and a couple of fruits) are listed alphabetically.
 
Asparagus
Begin harvesting the third year after planting. Harvest when the spears are 6 to 10 inches above the ground but before the heads open. Cut or snap spears off at the soil line. Stop harvesting if spears show a marked decrease in size. Maximum harvest period is 6 to 8 weeks
Bean, Snap Bean
Harvest before pods are full sized and when seeds are tender and about one-fourth developed. Harvesting usually begins 2 to 3 weeks after first bloom. Don't allow beans to mature on plants or bean production will decrease.
Bean, lima, broad
Harvest when pods are fully developed and seeds are green and tender.
Beet
Harvest when roots are 1 1/4 to 2 inches in diameter. Some cultivars may maintain quality in larger sizes.
Broccoli
Harvest when flower head is fully developed, but before the flowers begin to open. Cut 6 to 7 inches below the flower head. Side heads will develop after the main head is cut.
Brussels sprouts 
Harvest the lower sprouts (small heads) when they are about 1 to 1-½ inches in diameter by twisting them off. Lower leaves along the stem may be removed to hasten maturity.
Cabbage
Harvest when heads are solid, but before they split. On early cabbage, cut just beneath the solid head. Small lateral heads will develop from buds in the axils of the older leaves.
Carrot
Harvest when ¾ to 1 inch in diameter or smaller when thinning. For storage, leave carrots in soil until a light frost occurs. Use care when harvesting, since bruising favors the development of soft rot during storage.
Cauliflower
Cover curds when they are 2 to 3 inches in diameter by tying the outer leaves loosely about the head, or using leaves from other plants in the garden. Check for developing curds every 2 to 3 days, and retie if further development is necessary. Harvest when the heads are full sized but still white and smooth.
Celery
Harvest when plants are 10 to 12 inches tall.
Cucumber
Proper harvesting size is determined by product use. Pickles: Sweets are 1 1/2 to 2 inches long; dills are 3 to 4 inches long. Fresh slicing are 7 to 9 inches long and a bright dark green. Leave a short piece of stem on each fruit. Harvest daily and don't allow fruit to mature.
Eggplant
Harvest when fruit is firm and bright purple to black in color.
Jerusalem Artichoke
Harvest tubers after a hard frost. Tubers can be stored in the ground over winter and harvested early in spring or, with mulch protection, during most of the winter.
Kohlrabi
Harvest when the thickened stem is 2 to 3 inches in diameter.
Lettuce
Harvest the older, outer leaves from leaf lettuce when they are 4 to 6 inches long. Harvest heading types when the heads are moderately firm and before seed stalks form.
Muskmelon
Harvest when a crack appears completely around the base of the fruit stem. The fruit will readily separate from the stem.
Okra
Harvest when 3 to 5 inches long and tender.
Onion
Correct harvesting stage is determined by the type and product use. Harvest onions grown from sets when they are 6 to 9 inches tall for immediate table use. Onions grown from seed for fresh use should be harvested when the bulbs are 1/4 to 1 inch in diameter. Harvest seed grown onions for boiling when the bulbs are 1 1/2 inches in diameter. Harvest for storage (seed or set grown) when the tops have weakened and fallen over and the bulbs are 2 or more inches in diameter. Harvest before hard frost.
Parsnip
Harvest after a hard frost or in early spring before new growth starts. To harvest in spring, place a 3- to 5-inch soil mulch over the parsnips. Parsnips are not poisonous if harvested in early spring.
Pea
Harvest when the pods are fully developed and still tender, and before seeds develop fully.
Edible Pod Pea
Harvest when the pods are fully developed, but before seeds are more than one-half full size.
Peanut
Harvest when plants turn yellow at season's end or before the first early frost.
Pepper, green
Harvest when fruits are full sized and firm.
Pepper, red
Allow peppers to remain on the plant until they become completely red. This usually requires an additional 2 to 3 weeks.
Potato
For storage, harvest when full sized with firm skins. Tubers continue to grow until the vine dies. For new potatoes, harvest at any early stage of development. This is usually when tubers are 1 1/4 to 1 1/2 inches in diameter.
Pumpkin
Harvest pumpkins when they are fully colored and the skins have hardened enough to resist the fingernail test. Harvest before a killing frost.
Radishes
Harvest when the roots are ½ to 1 ½ inches in diameter (Chinese radishes grow much larger). The shoulders of radish roots often appear through the soil surface when they are mature. If left in the ground too long, they will become tough and woody.
Rhubarb
Do not harvest the first year after planting; harvest only a few stalks the second year. Established plantings can be harvested for approximately 8 weeks. The quality of the stalks decreases toward the end of the harvest period. Harvest only the largest and best stalks by grasping each stalk near the base and pulling slightly to one direction. Note: there is no evidence to show that stalks harvested from frost damaged plants are poisonous, so they should be considered safe to eat.
Rutabaga
Harvest when the roots are full sized but before a heavy frost.
Soybean
for fresh use, shell out just before pods begin to dry. For dried use, harvest when pods turn brown but before shattering occurs
Spinach
Harvest by cutting all the leaves off at the base of the plant when they are 4 to 6 inches long. New leaves will grow, providing additional harvests.
Squash, summer type
Harvest when fruit is young and tender. Your fingernail should easily penetrate the rind. Long-fruited cultivars, such as zucchini, are harvested when 1 1/2 inches in diameter and 4 to 8 inches long; scallops are taken when 3 to 4 inches long.
Squash, winter type
Harvest when mature. The rind should be firm and glossy and not easily punctured by your thumbnail. The portion that contacts the soil is cream to orange when mature. Leave a portion of the vine (2 to 3 inches) attached to the fruit to help prevent storage rot. Harvest squash before a heavy frost.
Sweet corn
Harvest when kernels are completely filled and in the milk stage. Use your thumbnail to determine this. The silks are dry and brown at this stage.
Sweet potato
Harvest in late fall before the first early frost.
Tomato
 
For peak quality, harvest 5 to 8 days after fruits are fully colored. Tomatoes lose their firmness quickly if they are overripe.
Turnip
Harvest when roots are 1 1/2 to 3 inches in diameter.
Watermelon
Harvest when full sized. The portion in contact with the soil is cream to yellow when mature.
Lettuce is one of the most popular vegetables in culinary arts and is used in salads and several other dishes. Hence, wouldn't it be great if you could simply harvest one from your own garden? This will ensure the freshness of the lettuce while also saving you cost from having to buy them from the grocer.
Varieties of Lettuce
There are four basic varieties of lettuce and it is important to recognize each one of them since it requires different growing conditions. Each one are listed and described briefly below:
*Butter head: This variety of lettuce possesses a creamy center to it. It also has a milder flavor as compared to other varieties but takes a lot more time to mature. This is the type of lettuce often used in making salads.
*Romaine: This variety comes with crunchy leaves and is characterized by its upright cluster of leaves. It takes between 70 to 85 days in order for this variety of lettuce to fully mature. Like the butter head, this is also popular ingredient for salads.
*Crisp head: This is another familiar variety and requires cool weather for growing. Of all varieties of lettuce, this one takes the most time to grow and requires specific conditions. You know when it's ready if the outer leaves possess a yellowish green color.
*Leaf Lettuce: This one requires less restriction in order to grow fully well. Unlike the romaine lettuce, this one comes with loose bunches of leaves. It is most suitable in warm weather.
Soil Requirements
Summer is the best time to grow lettuce because of the rich, humus-laden soil quality. The ideal soil condition is at pH 6.5, so you can test the soil before growing the lettuce to produce a better quality lettuce. It is often grown alongside other slow growing plants, such as broccoli or Brussels sprouts. Since lettuce thrives in moist conditions, make sure to regularly water the lettuce to moisten up the soil.
There are also different varieties of lettuce according to the season in which it is grown:
*Summer varieties – This refer to lettuce plants that are grown under hot conditions. However, make sure you choose an area for growing lettuce that is well shaded.
*Spring lettuce – This is more challenging to grow than the summer varieties. If you are living in a mild area, make sure to sow the lettuce seeds in an area that gets adequate amount of sunlight. Make sure to have proper drainage to the soil surrounding your lettuce plants.
Process of Sowing Seeds
An important thing to take note when sowing lettuce seeds is to sow at the position where you intend to grow them. Avoid moving lettuce plants, when possible. You can plant these seeds at seedbeds or boxes, ideally 2.5cm above the ground.
Observe proper distance between plants, roughly around 8-16 inches apart. This will provide enough room for each plant to grow without any disruption.
Time Periods
Take note of the following information to avoid harvesting lettuce immaturely:
*Expected germination time for lettuce: For hot weather conditions, it can happen around 6 to 12 days.
*Time between sowing and harvesting: It depends on the variety of lettuce you are trying to grow. For butter or crisp head lettuce, they take the longest amount of time from 8 to 14 weeks. For loose-leaf varieties, it takes about 6 to 8 weeks in order to be ready for harvest.
Other Growing Tips for Lettuce
Additional information when caring for your lettuce plants to ensure they grow healthy:
Moist soil is important in allowing the lettuce plant to grow fast and healthy. Therefore, make sure to water regularly. The best time for watering your lettuce plants is during the morning or midday. Watering at night can increase the risk of your plant developing diseases.
In order for the lettuce seeds to germinate, temperature must not exceed 80 degrees. If you are sowing during summer, make sure to employ proper shading devices on your plant bed. Or better yet, find a cool spot indoors to grow your lettuce.