Archive for the 'Winter' Category
In the fall is when you want to get ready for the winter cold. The worst thing in the world is trying to put your storm windows in when its 20 degrees outside. Or worse, not having your sprinkler system purged before the freezing weather comes. I'm going to give you a fairly easy checklist of things to do for the various systems of your home. From plumbing to roof, we'll walk through each system and hit the major things to make sure you do before winter so you can enjoy the snow and not worry about your home.
OK, lets start with the basics of making sure you have heat when you need it. The time to check that is in the Fall, no later than the end of October. Give your system a test run through and make sure all systems are "GO".
Heating System Checklist
Test Run:
Turn the thermostat to heat mode and set it to 80 degrees just for testing. You should hear the furnace turn on and warm air should blow within a few minutes. If it's running OK, turn the thermostat back to its normal setting. If it's not running properly, you can try to diagnose it. Depending on what's wrong, you can fix it yourself or you may need a qualified service technician.
Seasonal Maintenance:
Either have the furnace checked by a service technician or do it yourself.
Replace the Air Filter:
Put in a new clean air filter.
Fuel:
If you have a propane or oil furnace, make sure to have your fuel storage tank topped off and ready to go.
Heating Vents:
Clear obstacles to heating vents so air can freely flow.
Check for Carbon Monoxide Leaks:
This silent killer can easily be detected with either an inexpensive test badge or battery operated alarm. Whichever way you decide, just please decide to protect your family with one of these units.
Although not thought about much in warm weather, the wood burning fireplace and chimney can be a major source of cold air leaks and other issues in winter. So the chimney and fireplace need a little going over before winter sets in.
Chimney and Fireplace

Check that the chimney is clear of any nests from birds, squirrels or other animals.
Check flue damper operation. Make sure it opens and closes fully, and that it is able to be locked in the open or closed position.
Check chimney draft. Make sure the chimney will draw up the fire and smoke properly. Test this by taking several sheets of newspaper and rolling them up. Then with the fireplace damper in the open position, light the newspaper in the fireplace. The smoke should rise up the chimney. If it doesn't, you have an obstruction and need to call a professional in to clean the chimney of creosote and ash and possible debris.
If it has been several years (or never!) since you had your fireplace chimney cleaned, you should have it done by a professional chimney sweep. Definitely not a fun DIY project.
Inspect the fire brick in the fireplace. If you see any open mortar joints have them repaired immediately! A fire can spread into the stud wall behind the masonry fire brick through open mortar joints.

Plumbing is especially susceptible to cold weather and freezing. Burst pipes from freezing can cause some of the most expensive repairs in the home. So let's go over some of the basics to make you have them covered.

Insulate Exposed Piping
If you have any exposed water or drain piping at all in uninsulated spaces such as in a crawlspace, attic, outside walls, etc., make sure to insulate them with foam insulation at a minimum. Ideally you should wrap them with electrical heating tape first, then insulate them.
Pipe Wrap and Insulating Tape 
Exterior Faucets
Known as hose bibbs or sill-cocks, the exterior faucet needs to have its water supply turned off inside the house, and you also need to drain water from it by opening up the exterior faucet. You may also want to consider an insulated cover for the hose bibb. And remember to disconnect your garden hoses from the sill cocks or outside faucets and drain them if you store them outside.

Seasonal Shut Down
If you are shutting down a property for several months you should always shut off the water supply and drain the plumbing system. If a leak were to occur without occupancy, the damage could be catastrophic.
Infiltration of cold air from air leaks around doors and windows is as significant a contributor to your heating bill as is poor insulation in the walls and ceiling. An easy way to reduce you heating bill is to reduce these drafts with simple weatherstripping.
Windows
On a day when it's windy outside, close your windows and feel for air leaks. You can use an incense stick for this too if you don't mind the smell. Watch the smoke trail and if it becomes anything other than vertical, you have an air leak. Typically air leaks will be at the edges where the window is hinged, slides or meets another unit, such as between the two panels of a double hung window.
Although you can tape plastic over the windows to seal them, this can be expensive and look bad. It can also reduce much needed light in the winter unless you use the shrink-wrap type of plastic seal. So a better and easier solution is to use inexpensive

rope caulk

.
Press the rope caulk into all the joints where air is leaking.
Doors
The easiest fix here is to check for weatherstripping on the side and bottoms of the doors. Install weatherstripping on any leaking doors.
Infiltration of cold air from air leaks around doors and windows is as significant a contributor to your heating bill as is poor insulation in the walls and ceiling. An easy way to reduce you heating bill is to reduce these drafts with simple weatherstripping.Windows

On a day when it's windy outside, close your windows and feel for air leaks. You can use an incense stick for this too if you don't mind the smell. Watch the smoke trail and if it becomes anything other than vertical, you have an air leak. Typically air leaks will be at the edges where the window is hinged, slides or meets another unit, such as between the two panels of a double hung window.
Although you can tape plastic over the windows to seal them, this can be expensive and look bad. It can also reduce much needed light in the winter unless you use the shrink-wrap type of plastic seal. So a better and easier solution is to use rope caulk.
Press the rope caulk into all the joints where air is leaking.

Doors

The easiest fix here is to check for weatherstripping on the side and bottoms of the doors. Install weatherstripping on any leaking doors.
Lastly, you'll want to prepare your yard for winter too. Let's take a look at what can be done for the grass, deck and outdoor amenities around the home.
Outdoor Landscape
Excellent information about getting your yard ready for winter can be found at your local Ace store.
Cover patio furniture.
If your deck needs it, consider giving it a fresh coat of sealer before winter.
Drain the gas from your lawn mower or just let the mower run until it is out of gas.
Drain any water fountains, unplug the pumps and prepare for winter.
Now if you use this handy checklist winter should not be a problem for you.
Last winter was the fourth warmest for the contiguous 48 since record keeping began in 1895, with 24 states experiencing below-normal precipitation. In fact, California experienced its second driest winter ever. In only 10 states—chiefly across the nation's midsection— was winter precipitation above normal.
The situation became critical this past spring and summer with broiling hot temperatures across much of the country and the most severe drought conditions the nation has seen in more than 50 years.
For the coming season, we're predicting that winter will return to some – but not all – areas. We think it will be a "winter of contraries, as if Old Man Winter were cutting the country in half. The eastern half of the country will see plenty of cold and snow. The western half will experience relatively warm and dry condition. In other words, as in the political arena, the climate this winter will render us a nation divided.
We predict that real winter weather will return to areas from the Great Lakes into the Northeast. Most eastern states – as far south as the Gulf Coast – will see snowier than normal conditions and cooler temperatures.
We are "red flagging" February 12–15 and March 20–23 for major coastal storms along the Atlantic seaboard; storms bringing strong winds and heavy precipitation.
But on the other side of the country, winter will continue its hiatus for another year. The forecast for west of the Continental Divide – the Pacific Northwest, desert Southwest, Pacific Coast – calls for mild temperatures and below-normal precipitation.
To prepare a vegetable garden for winter, you'll want to do a great cleanup job in the fall. This garden care will make it easier to start the new growing season in the spring.
You may be tempted to skip some of these last-minute chores, but they're worth doing because they can make a big difference to the success of next year's garden. While these tasks can be put off until the start of the growing season, you can expect to be busy with the vegetable garden in the spring. You'll find it useful to have some of the work out of the way ahead of time.
As you finish harvesting crops and rows of garden space become available, it's a good idea to plant a cover crop, or green manure, as part of your preparation for the following year. This is a crop that you don't intend to harvest. It's simply to provide protection for the soil underneath. When you prepare for your spring planting, you dig the whole crop into the soil. A cover crop will keep your precious topsoil from blowing or washing away, and tilling it into the soil in the spring will provide valuable organic matter to enrich the soil.
The cover crop will also shade the soil, preventing many cool-season weeds from germinating. It's not necessary to plant the whole cover crop at one time to cover the entire garden; you can plant in each area of the garden as space becomes available.
Cover crops are not exclusively used over the winter. If you have a space in the garden that will be vacant for several weeks between plantings, a summer cover of buckwheat makes an ideal green manure. The buckwheat germinates quickly and covers the soil, preventing summer weeds from germinating. It's hollow-stemmed and easy to turn into the soil when you plant your next vegetable.
Vegetable Garden Cover Crop Types
Variety

Season to Grow

Amount of Seed/ 1000 Sq. Ft.

Rye

Winter

1 to 2 lbs.

Crimson Clover

Winter

1 lb.

Soybeans

Summer

3 to 5 lbs.

Hairy Vetch

Winter

3

/4

to 1

1/2

lbs.

Winter Wheat

Winter

1 to 2 lbs.

Buckwheat

Summer

2 to 3 lbs.

Rape

Winter

2 to 5 oz.

Cowpeas

Summer

3 to 4 lbs.

As an alternative to planting a cover crop, you can prepare the vegetable soil
ahead of time. Tilling your soil in the fall can save you a great deal of time and help you get an earlier start in the spring because the soil is often too wet in early spring to use a spade or a rototiller. If you do till your soil in the fall, make sure to cover it with mulch to keep it from blowing away and to prevent massive winter weed germination. Consider soil preparation for the area of your garden where you plan to grow next season's cool-season vegetables.
If you're growing perennial vegetables, fall is the time to prepare them for winter survival. Remove old stems and foliage that have been killed back by frost to prevent the spread of disease organisms and insects that winter on old debris.
In cold climates, perennial vegetables should be protected with a blanket of mulch to prevent root damage from extreme cold temperatures. In mild climates, a coating of mulch will protect plants from the alternating freeze-and-thaw and prevent plants from heaving from the soil.
Meaning
An unseasonably warm, dry and calm weather, usually following a period of colder weather or frost in the late Autumn (or in the Southern hemisphere, where the term is less common, the late Spring).
Origin
The origin of other 'Indian' phrases, like Indian giver, Indian sign, are well-known as referring to North American Indians – who prefer to be called Native Americans or, in Canada, First Nations. The term Indian summer reached England in the 19th century, during the heyday of the British Raj in India. This lead to the mistaken belief that the term referred to the Indian subcontinent. In fact, the Indians in question were the Native Americans, and the term began use there in the late 18th century.

Indian summer is first recorded in Letters From an American Farmer, a 1778 work by the French-American soldier turned farmer J. H. St. John de Crèvecoeur (a.k.a. Michel-Guillaume-Jean de Crèvecoeur):
"Then a severe frost succeeds which prepares it to receive the voluminous coat of snow which is soon to follow; though it is often preceded by a short interval of smoke and mildness, called the Indian Summer."
There are many references to the term in American literature in the following hundred years or so. In the 1830s Indian summer began to be used figuratively, to refer to any late flowering following a period of decline. It was well enough established as a phrase by 1834 for John Greenleaf Whittier to use the term that way, when in his poem Memories he wrote of "The Indian Summer of the heart!". Thomas De Quincey, republished in Bentley's Works of Thomas De Quincey, 1855, wrote:
"An Indian summer crept stealthily over his closing days."
In his story The Guardian Angel, 1867, Oliver Wendell Holmes mentions "an Indian summer of serene widowhood".
The English already had names for the phenomenon – St. Luke's Summer, St. Martin's Summer or All-Hallown Summer, but these have now all but disappeared and, like the rest of the world, the term Indian summer has been used in the UK for at least a century.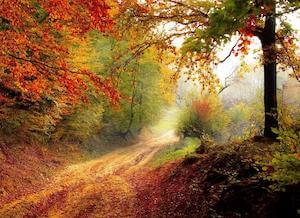 As a climatic event it is known throughout the world and is technically called a weather singularity, i.e. a climatic event that recurs around the same time of year. The frequency, depth and longevity of the weather pattern is clearly dependent of geography. It is most frequently associated with the eastern and central states of the USA, which have a suitable climate to generate the weather pattern, i.e. a wide variation of temperature and wind strength from summer to winter. Many of those states are also famous for their areas of hardwood forest, which show up well during Indian summers when the leaves have already begun to turn and the sun is shining.
Why Indian? Well, no one knows but, as is commonplace when no one knows, many people have guessed. Here are a few of the more commonly repeated guesses:
When European settlers first came across the phenomenon in America it became known as the Indian's Summer.
The haziness of the Indian Summer weather was caused by prairie fires deliberately set by Native American tribes.
It was the period when First Nations/Native American peoples harvested their crops.
The phenomenon was more common in what were then North American Indian territories.
It relates to the marine shipping trade in the Indian Ocean (this is highly dubious as it is entirely remote from the early US citations).
It originated from raids on European settlements by Indian war parties, which usually ended in autumn.
In a parallel with other 'Indian' terms it implied a belief in Indian falsity and untrustworthiness and that an Indian summer was an ersatz copy of the real thing.
The incidence of Indian summers has increased significantly over the past decade or so (in the UK at least – I can't speak for other countries) as one symptom of the unstable weather caused by global warming. The Native Americans espoused, and lived, a life of harmony with nature that is now being put forward by supporters of Deep Green philosophy and the Gaia Theory as a solution to the world's climate problems. It is ironic and sad that they should have given their name to something that has now become associated with global warming.
The weather is turning cooler, and it's time to starting preparing for winter weather. Here are some tips to help get your home ready for the cold:
Get inspected: If you plan to use a fireplace or wood stove for emergency heating, have your chimney or flue inspected each year. Ask your local fire department to recommend an inspector, or find one in your telephone directory under "chimney cleaning." Install a smoke detector and a battery-operated carbon monoxide detector near the area to be heated. Test them monthly, and replace batteries twice a year.
Protect your pipes: Insulate any water lines that run along exterior walls so your water supply will be less likely to freeze. Learn how to shut off water valves in case a pipe bursts.
Bring items indoors: If you have pets, bring them indoors. If you cannot bring them inside, provide adequate shelter to keep them warm and make sure that they have access to unfrozen water. Cover or bring indoors any plants that you want to protect from freezing temperatures.
Weatherize: Caulk and weather-strip doors and windows. Add insulation to your walls and attic, if necessary. Consider purchasing insulated doors and storm windows to further protect your home from the cold. This will also help lower your heating bill.
Buy supplies: In the event of a severe winter storm, you'll need to have supplies on hand, such as rock salt to melt ice on walkways, sand to improve traction and now shovels and other snow removal equipment. Prepare for possible isolation in your home by having sufficient heating fuel; regular fuel sources may be cut off. For example, store a good supply of dry, seasoned wood for your fireplace or wood-burning stove.
Remember fire safety: Keep fire extinguishers on hand, and make sure everyone in your house knows how to use them. House fires pose an additional risk, as more people turn to alternate heating sources without taking the necessary safety precautions. If you're going to use a space heater, make sure it has been tested according to the latest safety standards. Put it on a level, non-flammable surface away from bedding, drapes and furniture. And never leave a space heater on when you leave the house or when you go to sleep.
Watch your roof: Hire a contractor to check the structural ability of the roof to hold unusually heavy weight from the accumulation of snow or water
1 Add a second layer of insulation to your attic. R-30 insulation is considered the minimum. If your house is relatively new, it probably conforms. If not, consider adding insulation.
2 Caulk around window and door glass and trim, and all exterior trim. Install or replace weather stripping on all doors and windows. Check for cracks around pipes and electrical outlets entering or exiting the walls.
3 Install storm windows and doors if you have them. Consider purchasing storm windows if you have older windows that are not made from modern insulated glass.
4 Have your heating system checked by a licensed heating/air-conditioning professional. Most furnace manufacturers recommend at least annual inspections.
5 Check gutters and clean them if necessary. Clogged gutters can result in basement flooding when the snow melts (see 'eHow to Clean Gutters').
6 Replace any roof shingles that are missing or damaged (see 'eHow to Replace Asphalt Shingles').
7 Have your chimneys inspected by a chimney service and, if necessary, cleaned (see 'eHow to Clean Out a Fireplace and Chimney').
8 Check the foundation for areas where water may puddle.
9 Trim trees away from the house. Have dead trees and branches removed by professional tree trimmers, or do it yourself.
10 Drain and shut off outdoor water faucets.
11 Insulate any water pipes that are exposed to freezing cold.
12 Replace the batteries in carbon monoxide and smoke detectors, and check to make sure these are all in working order.
13 Check fire extinguishers and charge and replace as necessary.
14 Make sure you are stocked with rock salt, sand, snow shovels and any other items you will need during the winter.
The good news is that 15 minutes of snow
shoveling counts as moderate physical activity,
according to the Surgeon General's Report on
Physical Activity and Health (1996). We all should
aim for at least 30 minutes of moderate physical
activity of some kind on most days of the week.
A 170-pound person shoveling for 30
minutes will burn about 250 calories.
Brisk walking or social dancing are
other ways to fi t in moderate physical
activity during cold winter months.
The bad news is that researchers have reported
an increase in the number of fatal heart attacks
among snow shovelers after heavy snowfalls.
This rise may be due to the sudden demand that
shoveling places on an individual's heart. Snow
shoveling may cause a quick increase in heart rate
and blood pressure. One study determined that
after only two minutes of shoveling, the heart rates
of sedentary men rose to levels higher than those
normally recommended during aerobic exercise.
Shoveling may be vigorous activity even for
healthy college-aged students. A study performed
by researchers at North Dakota State University
determined that, based on heart rate, shoveling
was a moderately intense activity for college-aged
subjects most of the time but was vigorous activity
during about one-third of their shoveling time of 14
minutes.
The weather can make shoveling more diffi cult.
Cold air makes working and breathing hard, which
adds some extra strain on the body. Shovelers also
are at risk for hypothermia, a decrease in body
temperature, if they are not dressed correctly for
the weather conditions.
Be heart healthy and back friendly
while shoveling this winter with these tips:
• If you are inactive and have a history of heart trouble, talk to
your doctor before you take on the task of shoveling snow.
• Avoid caffeine or nicotine before beginning. These are
stimulants, which may increase your heart rate and cause your
blood vessels to constrict. This places extra stress on the heart.
• Drink plenty of water. Dehydration is just as big an issue in cold
winter months as it is in the summer.
• Dress in several layers so you can remove a layer as needed.
Synthetic fi bers help wick away perspiration better than natural
fi bers.
• Warm your muscles before shoveling by walking for a few
minutes or marching in place. Stretch the muscles in your arms
and legs because warm muscles will work more effi ciently and
be less likely to be injured.
• Pick the right shovel for you. A smaller blade will require you to
lift less snow, putting less strain on your body.
• Begin shoveling slowly to avoid placing a sudden demand on
your heart. Pace yourself and take breaks as needed.
• Protect your back from injury by lifting correctly. Stand with
your feet about hip width for balance and keep the shovel
close to your body. Bend from the knees (not the back) and
tighten your stomach muscles as you lift the snow. Avoid
twisting movements. If you need to move the snow to one side,
reposition your feet to face the direction the snow will be going.
• Most importantly, listen to your body. Stop if you feel pain.
Things to have on hand include extra food and water as well as…
A shovel

. Even if you live in an apartment you should own a shovel as you may need to dig yourself out before your ground crew gets in, and they are unlikely to dig out your car.

 

Flashlights.

Make sure you have good quality flashlights and lamps with fresh batteries. Also purchase "Self Powered Flashlights" and "Self Powered Radios". Some models will also charge your cell phone.

 

Food. Make sure you have enough non-perishable food to last a few days. Even if your budget is tight you should make sure to keep extra food in the house. Canned and powdered foods are good for long-term storage.

 

A Can Opener .

Make sure to have a good old-fashioned manual can opener.

 

Blankets and Warm Clothing. You may already have these items, but remember you will need enough blankets to keep you warm without any heat and in adverse conditions.

 

A Camping Stove or Barbeque Grill. A gas powered camping stove is a wise investment for any emergency situation. If you have an electric stove in the kitchen a camp stove is almost a necessity. Be sure you use it with proper ventilation, and have plenty of backup fuel.

 

Matches to light your gas range/camping stove/candles. Do not rely on lighters that can run out of fuel or break down all too easily.
            A Battery Operated Radio. This way you can get news without wall power. Make sure the batteries are good. It is also possible to buy a motion charging radio, as you can with a flashlight. 
Prescription medications. Like food, it is always wise to have enough to last you a few days.

 

Anything else vital to your household. You should always have ample supplies of items like diapers, formula, batteries, and so on before the storm hits.

 

A wall phone with a cord, or a portable cellphone charger. Cordless home phones will not work when the power is out. Many states require at least one wall plugged phone, which receives power from the telephone connection, in all households.
US Long Range Winter Weather Forecast 2011-2012
The coldest winter in 30 years was recorded across many parts of the US during the 2010-2011 winter. Eastern parts of the US plunged to a record -50F with the Northeast of the US also seeing records broken. Temperatures was also largely below normal averages for New York, Chicago, New Orleans, and Minneapolis. Snowstorms shattered New York City in December 2010 and January 2011 to become the snowiest January ever recorded.
So let's turn to the US winter of 2011/2012.
La Niña cools the equatorial seas of the Pacific and was one of the strongest on record during 2010/2011. Less warm air rises during La Niña conditions with a cooling influence on the atmosphere that has big implications on global climate and global weather patterns. The changes in global weather patterns come from air pressure changes in atmospheric cycles called the North Atlantic Oscillation (NOA) and Arctic Oscillation (AO).
The latest National Oceanic and Atmospheric Administration (NOAA) update suggests neutral conditions ahead, but a negative Pacific Decadal Oscillation (PDO) may yet suggest otherwise. The PDO is a pattern of Pacific climate variance that recently switched to negative (cold) and will remain that way for the next two to three decades. It is likely that La Niña will return more frequently during this time period as a negative PDO results in stronger La Niña (cooling) and weaker El Niño (warming) episodes.
Low solar activity is also a primary driver of atmospheric cycles that influence blocking activity patterns/ridges.
Our weather models consider all of these factors and are currently showing a particularly harsh winter for many parts of the US during 2011-2012. Large parts of Central and North America will face below average temperatures with above average snowfall throughout this winter, with temperatures in many Eastern and Western parts also showing as below average with above average snowfall amounts.
We expect the Pacific Northwest region to experience a very severe winter and the Cascades snowpack is likely to see increased levels due to the negative (cold) phase of PDO. Our weather models are also showing an increased likelihood for major snow events in Northeastern and Midwestern parts of the US throughout December 2011 and January 2012, that could see severe blizzard conditions hit New York City and Chicago.
With low solar activity levels, the negative Pacific Decadal Oscillation (PDO), and the general trend for a much colder winter after the onset of last year's La Niña, this winter could prove to be a record breaker with extremely cold temperatures and exceptional levels of snow for many parts of the US.
Trees can be badly damaged during severe winter storms. Trees are biologically engineered to adjust to most of the things that "Mother Nature" dishes up. Sometimes, however, trees are not able to compensate for catastrophic events, and a failure occurs. By identifying problems and dealing with them before winter storms occur, some emergencies can be avoided.
Trees in the street area: If your tree is located within a street right of way, it is regulated by the City. Trees that have been planted by the City (typically those along arterial streets) are maintained by the City. Trees that have been planted by abutting property owners are the maintenance responsibility of the current abutting property owner.
Trees on private property: Large trees are an extremely valuable asset to both the individual property owner and the community. An investment in pruning or inspection can help prevent damage from wind, snow or ice, and help preserve those irreplaceable older trees that add so much to the character and heritage of your property.
Preventative Maintenance:  strategic pruning to prevent branch failure is a good idea for both the trees and the people who live around them. We know first hand that the time invested in preventative maintenance is well spent. Trees that are pruned regularly should be more resistant to storm damage as a result of the removal of structurally weak branches, decreased surface area of lateral branches and decreased wind resistance.
Trees that have their canopies covered with ivy or clematis may not be able to withstand the additional wind or snow load caused by the extra leaf area of the vines. Removal of invasive vines is important to the health of your trees.
Trees that have structural defects may incur storm damage from snow, ice or wind. Some defects to look for are:
Dead Wood – dead trees and large dead branches are unpredictable. Dead wood is brittle, and cannot bend in the wind like a living tree or branch. Branches that are already broken off and hanging in the tree should receive prompt attention.
Cracks – A crack is a deep split in the tree, which extends through the bark and into the wood of the tree. Cracks are indicators of potential branch or tree failure.
Decay – a "hollow" tree can be prone to failure, but presence of decay does not necessarily indicate that the tree is hazardous. Trees usually decay from the inside, forming a cavity. At the same time, new wood is added to the outside of the tree as it grows. If the outer shell is sound, the tree may be relatively safe. Evaluating the safety of a decaying tree is best left to a trained arborist.
Root Problems – Trees with damaged roots may blow over in wind storms. Have your tree checked if over half of the roots have been crushed or cut; if the tree is starting to lean and soil is "pushing up" around the base of the tree on the side opposite the lean; or, if decay is present in the buttress roots or base of the tree.
Poor Tree Composition – An example of this would be a tree with a weak branch attachment, a large branch that is out of proportion with the rest of the tree, or a tree that leans excessively. Not all leaning trees are hazardous, but if you're concerned about the tree, it should be examined by a professional arborist. Weak branch attachments (typically, these are narrow "forks" in the tree) are also best evaluated by a professional arborist.
Prune your trees to remove dead or weakened limbs, starting when they are young. DON'T TOP TREES! Larger trees can benefit from having excess branches thinned from their crowns, which lets wind pass through. You should be able to see into your tree, but not through it!
Keep your trees healthy by caring for them all year long. Proper watering, mulching, fertilizing and pruning will help them be an asset to your property and the community for years to come.
Plant the right tree: When you are planting new trees, select the right tree for your location. To avoid damage from early snow and ice storms, don't choose trees that retain their leaves late into the fall. Don't plant too close to your house, and avoid species that are susceptible to breaking, such as Willows, Box Elders, Poplars, Bradford Pear and Silver Maples.