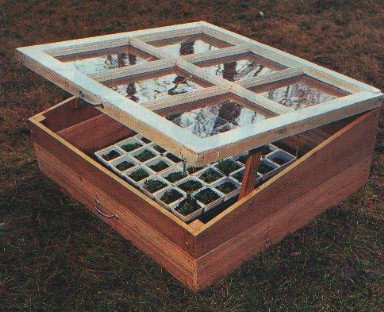 A cold frame is a simple structure placed in the garden that features structural sides (usually made of wood) and a top made of a transparent material such as clear plastic or glass. Starting seeds in a cold frame eliminates several of the difficulties of starting seeds indoors. However, it requires a small investment of time and money in the construction of the cold frame and careful attention on cold nights. Here's a brief run down of what you need to know for successful cold-frame seed-starting.
WARMTH. From early March on, cold frames warm up significantly almost every day. When unvented, the interior temperature can easily top 90 degrees on a sunny day. The soil in seedling trays or soil blocks absorbs much of the solar radiation and heat, and the soil easily reaches temperatures that initiate seed germination. However, on cold nights the cold frame provides only 10-15 degrees of protection (depending on wind and the previous day's high), so providing a bit of heat to stave off frost overnight is sometimes necessary. Sometimes throwing some old wool or polyester blankets on top can be enough; sometimes running a light bulb or Christmas lights within the box can do it. Generally some extra heat is wise if the outside temperature is predicted to drop below about 26 degrees and the frame contains frost-sensitive seedlings such as tomatoes, peppers, eggplants, basil, and certain flowers. (A cold frame with only brassicas and lettuces and greens will need no additional heat.) On sunny or warm days, venting is necessary–anything from cracking the lid to removing it entirely. Keep a thermometer handy: experiment a bit and you'll get the hang of it.
MOISTURE. Seeds sown in a cold frame can be watered with abandon–no mess to worry about. Do monitor the seedlings at the end of the afternoon, as solar heat and breezes from venting can cause rapid moisture loss on a warm or sunny days.
LIGHT. When you use a cold frame, the  mighty sun takes care of your light requirements: no supplementation is necessary. Just be sure to place the cold frame in a spot that gets full sun exposure. (Keep in mind that leafless trees will fill out and shade the cold frame before tender seedlings can be put in the garden.)
HARDENING OFF. Seedlings grown from the start in a cold frame require almost no hardening off, as they are exposed to temperature swings and breezes from a young age. Maybe give them one or two days of resting in a semi-protected spot outside of the cold frame before putting them in the ground; other than that, you're golden!
Summary: Cold frames provide an ideal environment for seed-starting. Gardeners are assured ample natural light and need not bother with much hardening off before transplanting. Cold nights are an issue: gardeners must monitor for sub-26 temps and provide additional insulation or supplemental heat on those nights if frost-tender crops are in the cold frame.